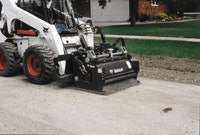 (WEST FARGO, N.D. — March 2010) Bobcat offers a full line of planer attachments for its skid-steer, all-wheel steer and compact track loaders, with cutting widths ranging from 14 to 40 inches.
Planer attachments are ideal for milling potholes, alligator cracks and other defects; matching uneven pavement surfaces; cutting drainage in parking lots; making street repairs; and cleaning up around larger milling machines.
A 14-inch cutting width planer is available for Bobcat® loaders with standard flow hydraulics. It features manual depth control from 0 to 6 inches, 26-inch hydraulic side-shift and an all-purpose drum. It may also be equipped with a 2.5- or 4-inch slot cut drum, or a 6-, 8- or 12-inch all-purpose drum. Drums are changed by removing the side access panel.
Planers are also available in 18-, 24- and 40-inch cutting widths for use on all current Bobcat loaders equipped with high-flow hydraulic systems.
The 18- and 24-inch planers feature hydraulic depth control from 0 to 6 inches, 26-inch hydraulic side-shift and choice of smooth or fast cut all-purpose drums. They may also be equipped with smaller all-purpose or slot cut drums and drums are also changed by removing the side access panel.
Drums on 14-, 18- and 24-inch planers may be unlocked, allowing them to oscillate up to +/- 15 degrees for optimum surface tracking when operating the loader in uneven terrain. This is a feature that is unique to Bobcat planers and provides for continuous cutting depth without requiring constant operator input. In addition, the right ski and end plate may be removed for planing flush against walls.
These models also feature replaceable ski wear pads that provide consistent depth control by penetrating through debris in the path of travel. In addition, standard rear frame wheels provide support and reduce tire bounce while planing. Special side cutting bits on drums reduce binding and provide a vertical edge for improved joint bonding between new and existing asphalt.
The 40-inch planer has hydraulic depth adjustment from 0 to 5 inches. Skis are independently adjustable and the depth gauge and oscillation gauge are visible from the operator's seat. A diverter valve allows the operator to switch from hydraulic side-shift to hydraulic oscillation. Oscillation is +/- 8 degrees.
Hinged top panels on all models make inspection or bit replacement easy. Bits are retained by expansion rings rather than C-clips, speeding up the replacement process.
For the name of the nearest Bobcat dealer, visit www.bobcatdealer.com. For more information, visit www.bobcat.com/all_attachments.