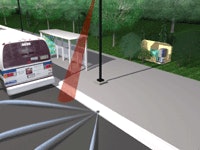 GREELEY, Colo—EnviroTech Services Inc. announced today that its ESI-Spray division has launched a new product line of Mini-Spray Systems designed to provide advanced anti-icing and de-icing road treatment for bridges, parking decks, garages and roadways. The Mini-Spray Systems are similar to the division's existing systems, but they are constructed in a smaller, self-contained unit that is easy to install and manage.
Key benefits of the Mini-Spray System include:
Superior spray coverage that offers 500 feet in each direction
Easy-to-use push button activation
An automatic low tank level shut off feature
Compatible with most anti-icing and de-icing products on the market
Spread spectrum radio remote control with 1,500 feet line-of-sight
In addition, the Mini-Spray System does not require a control building and provides a niche solution for parking garages and smaller bridges. Like other spray systems that ESI-Spray offers, the Mini-Spray System can be controlled and monitored through remote access via the Internet over a secure server. They can also be upgraded to offer the latest in road sensor technology.
"These new Mini-Spray Systems represent the next level in automated road treatment technology," said Bill Bebb, Head of Design and Engineering for ESI-Spray division. "They are cutting edge, compact, easy to use and highly reliable. We designed these systems with our customers in mind and the result is a viable solution that fulfills their needs for road treatment in a cost effective manner."
About EnviroTech Services/ESI-Spray division
EnviroTech Services, Inc. has been successfully providing products and services to improve road safety for 20 years. Based in Greeley, Colorado, it delivers innovative road maintenance and safety solutions with proven performance and personalized service for both natural and man-made environments. The ESI-Spray division was formed in 2006 in response to the needs of winter maintenance customers who owned outdated spray systems. The division partners with Vaisala to provide state-of-the-art, fully automated spray systems and also offers services to rebuild and update existing spray systems. For more information call 1-800-369-3878 or visit www.envirotechservices.com.