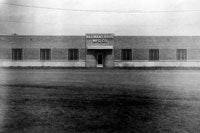 HOLDREGE, Neb. Allmand Bros., a leading manufacturer of portable light towers, compact TLBs, jobsite heaters and arrowboards, celebrates its 70th year in business by launching two new light tower technologies in 2008.
From its humble beginnings in 1938 as a small manufacturer of arc welders, Allmand Bros. hit its stride in 1954 when it introduced the industry™s first portable light tower. Throughout the years, the company introduced a series of cutting-edge developments in this product category including spring-mounted bulb holders in 1957, the first parallel lamp fixtures in 1968, the SHO (Super High Output) lighting system in 1996, the first 1,250-watt lighting system in 2000 and the LSC100 in 2002 " the first automatic lighting sequence and command control system.
Today, Allmand Bros. continues its leadership in lighting by introducing the new V Series vertical tower design and the new SHO-HD lighting system, which provides a brighter, more true-to-life light than any other technology on the market.
Ever since Les and Walter Allmand started this company, the Allmand Bros. product philosophy has been to give customers more than they expect, said Roger Allmand, CEO of Allmand Bros. Today, that philosophy still holds true with these two new lighting products. It™s what drove our product development 70 years ago and what will continue to drive it for the next 70 years, and beyond