By Tina Grady Barbaccia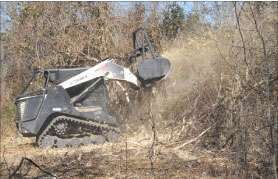 Largest Terex CTLs flex their muscles
Without a boost in engine horsepower, Terex claims double-digit gains in tractive effort, bucket breakout force and implement pressure for its largest compact track loader models. As outlined in a June 18 web conference, the PT-100G and PT-100G Forestry models retain the class-high 99.9 horsepower of the original PT-100 and PT-100 Forestry units, but use a 47-percent more powerful implement pump to help increase horsepower to the attachment by a claimed 32 percent. When the machines are in low gear, a 14.6-percent increase in tractive effort translates into more pushing power. – Mike Anderson
Tires for rocky terrain
The new Michelin X-Traction tire from Michelin Earthmover Tires is designed for earthmover transport equipment operating in rocky terrain. The tire became available in North America on July 1 for 100-ton mining and infrastructure trucks using the 49-inch E4 size. Beyond the initial 27.00R49 size now being introduced to North America, additional sizes of the tire will be available: 24.00R35 in September 2010, and 21.00R33 and 18.00R33 in 2011. The new tire features a tread that is up to 13-percent deeper, which extends tire life by up to 15 percent, according to the manufacturer.
Best-in-class bucket breakout force in compact track loaders
Kubota Tractor has entered the compact track loader market with two models, the 75-horsepower SVL75 and the 90-horsepower SVL90. Both models — designed, engineered and manufactured by Kubota — have what the company calls a "best-in-class bucket breakout force." The SVL75 has a 6,204-pound bucket breakout force and a 4,881-pound lifting capacity. The SVL90 has a bucket breakout force of 7,961 pounds and a lifting capacity of 5,869 pounds. Both models are powered by a four-cylinder, direct-injection, turbo-charged Kubota diesel. – Marcia Gruver Doyle,editorial director, Equipment World
SPECIAL BRIDGE PRODUCT
Publication clarifies the latest bridge design codes, methods
Focusing on both traditional and nontraditional design issues, the Bridge and Highway Structures Rehabilitation and Repair 656-page hardcover manual by Dr. Mohiuddin Khan, chief bridge engineer with JMT Inc., clarifies the most recent American Association of State Highway and Transportation Officials (AASHTO) bridge design codes and discusses new analytical and design methodologies, such as the application of load and resistance factor design (LRFD). Included are topics such as diagnostic design and selective reconstruction; bridge failure studies and safety engineering; analytical approach to fracture and failure; bridge widening and replacement strategies; guidelines for seismic design; and retrofit methods.
SPECIAL BRIDGE PRODUCT
Advanced design, analysis for pre-stressed concrete bridges
The Bridge Designer II (BD2 v4) from Interactive Design Systems (IDS) provides advanced design and analysis for pre-stressed concrete bridges in a wizard-driven user interface. The BD2 v4 software package enables engineers to design and analyze a complete bridge model. The software uses basic matrix structural analysis formulation, combined with time-dependent material properties, to carry out a time simulation of bridge designs under construction. During the process, all stress conditions are checked at every construction step as well as in service. The BD2 Assistant Wizard enables the user to take advantage of the program's high level of embedded intelligence to quickly populate the project database with a Parametric Bridge Model. Default models include Span-by-Span, Balanced Cantilever, Cable-Stay, Spliced-Girder and Composite Bridges. The user can subsequently modify the model if needed to meet design specific requirements.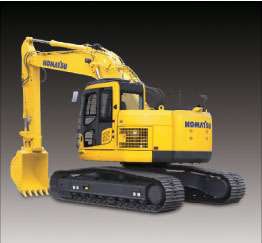 Machine operating information sent wirelessly on excavator
The PC228USLC-8 hydraulic excavator from Komatsu America Corp. is the latest in the company's light tail series and builds on its previous model with hydraulic system enhancements, improved operator control and comfort, increased lift capacity and stability, and lower fuel consumption. The excavator is equipped with the latest Komtrax technology, which sends machine operating information to a secure website using wireless technology. The machine has an operating weight of 53,195 to 54,405 pounds, and is powered by a Komatsu SAA6D107E-1 engine. The electronically-controlled High Pressure Common Rail, or HPCR, fuel injection system is EPA Tier 3 emissions certified. Special features of the new machine include a short tail swing radius and round cab design, increased lift capacity and stability with 2,865 pounds of additional counterweight, hydraulic system enhancements such as the Closed Center Load Sensing (CLSS) system, and a new large multi-color 7-inch LCD monitor. Five modes of operation may be selected through the monitor panel: Power Mode, Economy Mode, Lifting Mode, Breaker Mode and Attachment Mode. The monitor panel also displays the automatic air conditioner, machine maintenance tracking, and the image from the standard, counterweight-mounted rearview camera system.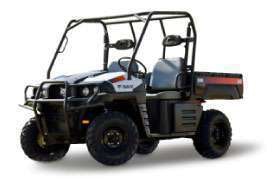 Stronger, faster utility vehicles
The new Bobcat line of utility vehicles launches with four models — the 3200, 3400, 3400XL and 3450. Features for the new vehicles range from two-wheel drive to the four-wheel drive, attachment-ready 3450 model. Performance enhancements such as more responsive acceleration, better payload capacities and increased horsepower and top speeds, and electronic fuel-injected gas 4-by-4 models that start easier and run more reliable in higher altitudes are some of the improvements from the line's previous models. Increased payloads, acceleration and top speeds are the direct result of the new horsepower ratings in both the gas and diesel engines, ranging from 24.8 to 32 horsepower.