Speed the plow
New tow plow moves more snow, faster
By Mike Anderson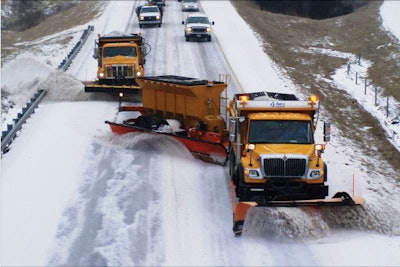 The numbers just didn't add up for Bob Lannert back in his days with the Missouri DOT: There were too few plow trucks to clear snow and ice from the newly-added lanes of highway his crew was responsible for.
Albeit a problem neither uncommon nor new to his DOT colleagues throughout the country of course, Lannert did have a solution in mind – one that has recently been brought to market by snow equipment manufacturer Viking-Cives (www.vikingcives.com) and generated additional traction for the revolutionary Lannert himself.
The TowPLow, as Lannert spells and designates it, "became a solution to the problem of the many additional lanes built in Kansas City and St. Louis when state government did not want to add additional staff to their ranks," he recalls. "My initial goal was to solve having to gang the many plow trucks to clear three to seven lanes in one direction from the barrier to beyond the right shoulder. The problem was: When the gangs were gathered, the other routes were often not being plowed."
This coming winter, MoDOT alone will operate more than 60 of the towable plowing units, says Lannert, who is now retired from MoDOT after 34 years and, among his endeavors (www.TowPLow.com), consults with Viking-Cives, manufacturer of the TP26.
So designated due to its total 26-foot moldboard length, the TP26 "is our biggest success story in innovation," says Gerald Simpson, vice president, sales, with Viking-Cives Ltd., the Mount Forest, Ontario-based Canadian division of the international company. Lannert, during an evening dinner when visiting the Ontario plant a number of years ago, drew the idea on a table napkin, showing how a plowing trailer, equipped with steering axles, could hydraulically steer out to the side. This would allow two lanes to be cleared at once with a single plow truck.
Starting five years ago and supported by Canada's Industrial Research Assistance Program based on federal, provincial and local employment opportunities, the Canadian arm of Viking-Cives has now essentially completed the TP26 program, save for a few "tweaks", and has been marketing the product for two years now, says Simpson.
"At the end of last snow season, we had approximately 75 of them working across North America," he says, citing such diverse markets as Missouri, Minnesota, Utah, Maine, Pennsylvania, Tennessee and the Canadian provinces of Ontario, Quebec, New Brunswick and Alberta. "Almost everyone who has bought one came back and bought more. They didn't park them in the corner and say, 'Well, it was a novelty, and it was cute, and it was nice, but it doesn't work for us. Almost everyone has bought more. We'll have 100 working when the snow season starts again in the 10/11 winter."
Key features of theTP26 include two 18,000-pound steering axles capable of turning 30 degrees and two 30-inch-high moldboards pinned together that are raised and lowered by two 3-inch-by-16-inch cylinders. The front moldboard is 12 feet long, the rear is 14 feet long, and both operate from a single acting valve section controlled from the truck's cab.
"It takes one length of the machine to fully deploy," Simpson explained during an on-site demo for Better Roads, "and it doesn't matter if you're going one mile per hour or 50. It's how far it travels, which with the plow on it is approximately 65 to 70 feet, depending on the truck model."
For the operator, the TP26 has fewer controls than the traditional side wing – two compared to three. One lever steers the trailer in and out; another control lowers the blade and, since it's held down by simple gravity, "that's it for the plow," says Simpson. "You just drive the truck as you would normally.
"From the tip of the snow plow on the front of your truck to the tip of this wing behind, you're clearing a 25-foot path."
End-users, both public agencies and in some jurisdictions private contractors who service the public highways, are discovering the TP26 offers more than one unit doing the work of two, says Simpson. "As a matter of fact, they are finding they can operate a little bit faster with this, because they put it in an area where there really isn't anything to go dodging around. They'll put it on a two-lane going one way, drive in the fast lane, and do the slow lane with the tow plow, and there's nothing there to hit: No curbs, no mailboxes, no bridges. It just goes."
Lannert terms this as "Phase 2" of the product's application evolution. "TP trucks are being used to clear two lanes wide on rural interstates at speeds approaching 60 miles per hour," he says. "This process was first initiated on I-55 and I-44 in Missouri, and again proven last winter. The increased width and higher operating speeds will increase operator production from two to four times the previous production when compared to conventional snow plow trucks with only front plows."
Further expanding the versatility of the TP26 are two options available to standard single tank, usually filled with salt brine for ballast. ("We need weight on these tires when they steer out to make them stay where we want them to be," explains Simpson.) A hopper sander can be installed, allowing the unit to sand a second lane. As another option, a contractor working in the Canadian Maritimes has installed two tanks, one ahead of the other, allowing a single unit to lay anti-icing liquid before the storm, then stay out and plow the roadway once the storm hits.
Back in Missouri, where Viking-Cives today operates its Midwest Division, Lannert had identified from the Energy Policy Act close to 20 years ago what today are considered glaring and obvious opportunities for products such as the TP. "Snow removal efforts in many states spend over $3 million for diesel fuel," he says. "There are opportunities to reduce our fuel consumption by improving equipment designs and increasing productivity. This is often achieved by what I defined as One Pass Clearing.
"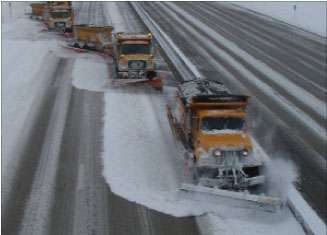 One Pass Clearing is now used to clear both rural interstate lanes in one pass at higher speeds. The higher speeds can easily be achieved because the implementation plan also includes the elimination of the front plow and utilizing high-speed underbody designs to allow the operator to safely see and operate at higher speeds, with my goal to operate snow plow trucks within 10 miles per hour of the traveling public's speed during the storm," explains Lannert. "This should help to reduce rear-end accidents, and we have seen additional evidence of reducing accidents because both lanes are in the same condition after the TP truck makes its pass. This is not the case with conventional methods, where agencies often used one truck to clear one lane and then returned later to clear the other. This situation sometimes caused drivers to lose control because of unequal conditions between the lanes."
The implementation of the TP concept is "a result of MoDOT, Viking-Cives and myself partnering in an effort to dramatically improve highway services during snow storms while achieving savings in the operation," says Lannert. "Yet, it would not have happened if I had not been a Missouri farm boy who learned that one can no longer compete by using four-row planters.
"Improvements have come from innovation of equipment enhancements in the farming industry and you will now see similar improvements in snow removal by doing more with less equipment investment, fuel and labor. Look out for the future! Snow plow operators will let the truck drive itself, allowing the operator to monitor all systems for safety, just like farm tractors are now guided in the fields: Hands free!" v
PLUS DIGITAL EXTRA
See our DIGITAL EDITION (at www.BetterRoads.com) – page 35a – for more high-resolution pictures of this tow plow.