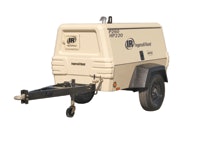 STATESVILLE, N.C. — The new P260WYM/HP220WYM dual pressure, dual flow air compressor from Doosan Portable Power is designed to withstand the most rugged environments and provide unparalleled flexibility. The air compressor is ideal for use in general construction, abrasive blasting and pneumatic tool applications, as well as rental fleets.
This "two-in-one" dual pressure unit operates at either 260 cfm at 100 psi or 220 cfm at 150 psi. A simple control panel switch allows the operator to easily change the pressure setting on the fly.
The P260WYM/HP220WYM is powered by a rugged Yanmar Tier 3 compliant engine.
The roomy tool box of the dual pressure unit has increased space by 33 percent allowing for generous tool storage extending the full length of the frame.
A spin-on separator element assures ease of maintenance along with component locations that have been designed for service access and electronic engine diagnostics capability. The remote separator element has a simple, spin-on design eliminating the need to enter the separator tank and preventing spillage during oil changes.
Potential service points are easily accessible without removing the canopy, along with simplified wiring and piping that also enhance service accessibility. Also under the canopy, the engine coolant recovery bottle and airend oil filter are conveniently relocated for easy access and service.
Adding to the serviceability of the P260WYM/HP220WYM is the addition of an electronic diagnostic module. This module allows for quick troubleshooting with a single-digit diagnostic code display upon unexpected unit shutdown. It also incorporates a low-speed shutdown protection system, significantly simplifies wiring and electrical components on the unit and promotes similarity between units for quicker, more simplified service and repair.
For more information on the new dual pressure P260WYM/HP220WYM, please visit doosanplatinumseries.com. For information on other products available from Doosan Portable Power, please visit doosanportablepower.com.