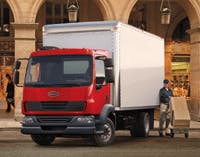 DENTON, TX  – Peterbilt Motors Company unveiled new  design enhancements for the medium duty Models 210 and 220 cabovers in the Class 6 and Class 7 markets.  Offering optimal maneuverability, high volume payload capacity and enhanced visibility, the cabover vehicles are available in several wheelbases to accommodate a variety of application requirements including pickup and delivery, wrecker and sweeper.
"Maneuverability is a key attribute to maintain. The Model 210 and 220 offer that and driver comfort, entry safety features, serviceability and vigorous power all in a compact package. And with its low chassis weight, it's perfect for high volume payloads," said Bill Jackson, Peterbilt general manager and PACCAR vice president. "From Class 5 to Class 8, Peterbilt has a complete lineup of conventional and cabover trucks that offer versatility that will meet any business requirements or application needs."
The new 2012 designs have paired a lightweight chassis and frame rail with a strategically positioned electrical system to optimize body installation and increase payload capacity. The Models 210 and 220 utilize Selective Catalytic Reduction (SCR) technology and are 2010 emissions compliant. In addition, the new designs are available with an Allison 2100 Series automatic transmission which helps provide a smooth, comfortable ride.
Designed for optimal productivity, the Peterbilt 210 is available as a Class 6 straight truck with GVW rated at 26,000 pounds. It features a tight turning radius for ultimate maneuverability in difficult, confined spaces, and a wrap-around windshield, extra large side windows and heated mirrors for exceptional visibility. Standard with an automatic transmission and air suspension, the model 210 is recommended for bodies between 18 to 26 feet in length and can be configured for a non-CDL operation. In addition, the wrap around dash highlights the spacious interior with its capacity to seat three people and provides ample storage with overhead compartments running the width of the cabin.  
A Class 7 vehicle, the Model 220 is tailor-made to deliver a compact package of maneuverability, visibility and serviceability. In addition to the tight turning radius and wrap around windshield, the Model 220 provides a low chassis weight, perfect for high volume payloads. The front panel opens for quick access to the air filter, coolant, washer fluid, power-steering fluid, refrigerant and engine oil, and ergonomically positioned doors open a wide 90 degrees.  The Model 220 is recommended for bodies between 20 and 26 feet in length.
Both vehicles are powered by the reliable, lightweight PACCAR PX-6 with horsepower ratings up to 250 and torque ratings up to 660 lbs-ft. Ideal for medium duty truck owners, the fuel-efficient PX-6 provides an in-line 6 cylinder devise with four valves per cylinder, a high pressure common rail fuel system and features the best power-to-weight ratio available in its class.
 "To expand versatility in Peterbilt's medium duty line, and to capitalize on market growth, our team of engineers has developed new designs for the Model 210 and 220 to enhance driver productivity," said Landon Sproull, Peterbilt chief engineer. "The 2012 designs offer optimal maneuverability, comfort and ease of operation, providing drivers an advantage while operating in congested environments."  
The Model 210 and 220 complement Peterbilt's broad lineup of medium duty vehicles which includes the conventional Model 325, 330, 337, and 348.  For environmentally friendly operations, Models 330, 337 and 348 are also available in hybrid electric configurations.
About Peterbilt Motors Company
Based in Denton, Texas, Peterbilt Motors Company combines a global reputation for industry leading design, innovative engineering and fuel efficiency solutions, with superior quality to engineer a truck that stands as the "Class" of the industry.  Through its 250-plus North American dealer locations, Peterbilt also provides a comprehensive array of TruckCare® programs to support its full lineup of vehicles, including alternative fueled vehicles, with aftermarket support programs.  Customers enjoy industry leading service and support, including preventive maintenance plans, expedited QuickCare services, automated parts inventory replenishment and 24/7 complimentary Customer Assistance through 1-800-4-Peterbilt.  For more information about Peterbilt, visit https://www.peterbilt.com/. Peterbilt is a PACCAR Company, traded publicly on the NASDAQ as PCAR.