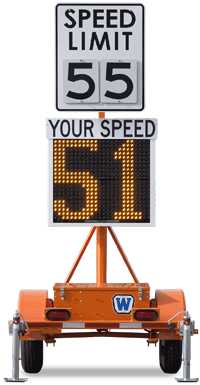 Arvada, Colorado – Wanco Inc. has experienced great success with its latest radar speed trailer, featuring the largest display of any portable radar trailer on the market. Bright, bold 26-inch characters highlight the superior visibility of this full- matrix display, providing advanced warning of motorist speeds where it matters most – work zones.
Wanco's Radar Speed Trailer features an extra large full- matrix display, selectable speed settings, streamlined see-through design, and battery power with solar charging. Visible over a standard Jersey barrier traffic divider, the display shows motorist speeds in 26-inch characters, flashing when a vehicle speed exceeds the user-set speed limit.
The selectable over-speed message flashes "SLOW DOWN" or a frowning face symbol. Optional police strobe lights can be added for increased awareness. Factory-configured units show motorist speed in MPH (2 digits) or Km/h (up to 3 digits).
A regulatory sign above the display features changeable speed-limit numbers for easy setup in any speed zone. The electronic display rotates to face traffic and includes visors and shades that produce superior visibility. The trailers see-through design puts pedestrians and workers in view, improving their safety – particularly in high-risk areas.
For more information about Wanco and its products, visit www.wanco.com. To request information, email info@wanco.com.
Since 1984, Wanco Inc. has been the leader in the manufacturing of highway safety and traffic control products, recently adding portable security and surveillance to its offerings in 2006. The company's comprehensive line of highway safety products are suited to a variety of informational, safety, and traffic control applications. Wanco is a Colorado Top-50 family-owned company, and is located just outside of Denver, Colorado