Mowers and Mower Attachments

Mow the roughest terrain into a clean-cut landscape with Bobcat's mower attachment, which comes in 72- and 90-inch options. The front-mounted unit cuts grass before it's driven over, which provides an excellent working visibility of the area to be mowed. Powered by a direct-drive hydraulic motor, three overlapping blades eliminate skips for clean cutting, discharging cut materials to the rear. The frame design allows the mower to oscillate independently to follow uneven terrain, delivering a close cut. From mowing roadside ditch right-of-ways to large municipal acreages, the mower attachment is ideal for all rough-cut jobs.
The Harper ATM162 Slope Mower from Harper Industries is an automatic self-leveling tractor, which allows the operator to be safe and comfortable on slopes of up to 34 degrees. The ATM162 features a 13-foot cutting width and 99-horsepower Cummins engine to provide productivity on all types of terrain.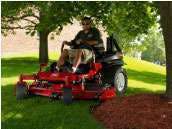 Toro's Z Master G3 zero-turning-radius mowers have been redesigned with a low center of gravity – the result of a vertical shaft engine that sits lower in the chassis, a lower operator position and the 12-gallon fuel tank that is now located under the operator's seat. The combination provides hillside stability and traction for better control and less "crabbing." The design also incorporates unitized hydros. The new instrument panel on G3 models contains an electronic hour meter and allows operators to quickly assess the status of the mower, including fuel levels and battery voltage.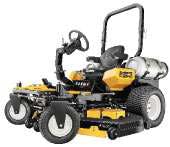 The Cub Cadet Commercial TANK S LP, powered by either an 852- or 999-cubic-centimeter Kawasaki engine, offers reduced emissions. The TANK S LP meets all current EPA and CARB emissions standards and allows professionals to reduce their carbon footprint and save on fuel costs. This zero-turn commercial mower also has steering-wheel control and cuts up to 7.5 acres an hour.

The Dixie Chopper Magnum Series has 50- and 60-inch models powered by 27-horsepower Briggs and Stratton Pro Series engines. The Magnum is equipped with a heavy-duty ZT3400 transaxle that ensures longer drivetrain life and reduced noise. With mowing speeds of up to 9 miles per hour, the Magnum is efficient for both commercial cutters and homeowners.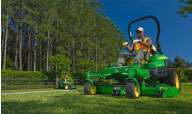 John Deere ZTrak Pro 900 Series mowers offer seven different models with top mowing speeds of 10.5 or 12 mph. The Z900s include a ground-drive transmission featuring a piston motor, internal wet disc brakes and a gear-reduction final drive. The series also offers on-board self-diagnostics, run-flat tires and dial-in height-of-cut adjustment on the control panel.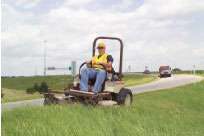 The Grasshopper 4X Rear Discharge (4XRD) and 35 Series Rear Discharge DuraMax decks for MidMount and FrontMount mowers keep clippings on the turf and away from sidewalks and roadways. The dedicated rear-discharge designs use less power, save fuel and reduce noise levels while distributing clippings evenly behind the mower, according to Grasshopper.