Cargill has received the "Design for the Environment" (DfE) designation from the U.S. Environmental Protection Agency (EPA). Granted to ClearLane enhanced deicer, a green-colored deicing product is produced by the Cargill Deicing Technology (CDT) business unit.
In correlation with CDT's new mission statement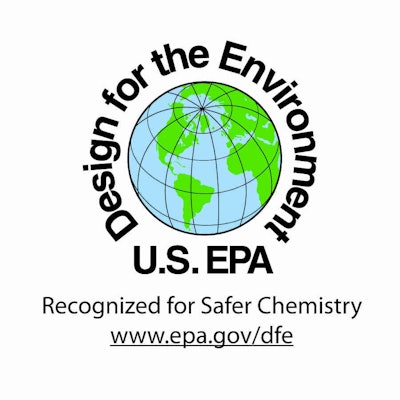 declaring a more prominent focus on reducing environmental impact, and Cargill's overarching commitment to the environment, the company sought the prestigious designation for ClearLane enhanced deicer, in which traditional sodium chloride has been enhanced with a blend of salts and organic additives to provide increased performance while reducing the user's environmental impact.
Lab data and customer usage experience show this composition can help lower the amount of salt used per application by 30 percent to 40 percent, which means, less salt is distributed into the environment when compared to regular road salt, according to Cargill.
A prominent product used by city, county and state governments as well as commercial snow removal companies in their efforts to create safer winter driving conditions for the public, the product has been on the market for more than 10 years. When used at the proper application rates, the product offers significant environmental benefits such as fewer salts and chlorides released into the environment, resulting in reduced impact on watersheds, aquatic life, roadside vegetation and other living organisms when compared to other treatment methods such as agricultural by-products.
"What this means for the public is the product used during winter on many roads and parking lots throughout the country is effectively helping melt ice and create safer driving conditions, plus it's doing so in a way that's better for the environment," said Sean Riley, CDT marketing manager. "What this means for our customers is the deicing product they've trusted over the years still provides the enhanced results they come to expect while meeting a very stringent environmental standard."
Attaining the EPA designation involved meeting approval and continued focus in categories such as environmental protection, worker/consumer safety, resource conservation and customer education.
"The product is friendlier to the environment and helps conserve resources by reducing corrosion, and wear and tear on handling equipment and salt spreader trucks," Riley said. "Plus, we're meeting the customer education criteria by educating our customers and sales force abot the benefits, and improved environmental characteristics of the product."
The ClearLane enhanced deicer DfE designation is another step in the organization's dedicated path of environmental stewardship and providing superior winter maintenance solutions.
* In 2007, Cargill's BiOH polyol, a bio-based substitute for petroleum-based foams used in furniture applications, received the Presidential Green Chemistry Challenge Award from the EPA. Four Cargill Corn Milling North America locations, including Blair, Nebraska; Cedar Rapids, Iowa; Eddyville, Iowa; and Wahpeton, North Dakota, earned the EPA's prestigious ENERGY STAR, the national symbol for protecting the environment through energy efficiency.