Eaton

Vocational truck efficiency? Expanded line makes it automatic
An automatic transmission in a vocational truck application is no longer a pipedream or even a novelty. In fact, as transmission system suppliers continue to develop and grow their product lines, automatics have become practical, efficient solutions to the personnel and equipment challenges forever faced by truck fleet managers. An expansion to Eaton's UltraShift PLUS line includes two new vocational platforms, additional application approvals within a multipurpose platform, and a lower torque range for established linehaul products. Both also designed for linehaul vocational use: the newly-released, 10-speed Vocational Active Shifting (VAS) platform is available in models ranging 1,050 to 1,650 foot-pounds, as well as multi-torque; new 13-speed Vocational High Performance (VHP) models range between 1,650 and 2,050 foot-pounds. Additionally, the Multipurpose Extreme Performance (MXP) platform is now approved for logging, mining, oil-field, construction, city delivery, refuse and off-road applications, on top of the original heavy and linehaul uses. Also, Eaton has released lower-torque models of the Vocational Construction Series (VCS) and Vocational Multipurpose Series (VMS) transmissions, specifically 1,050 and 1,250 foot-pound versions. Most recently, Western Star joined fellow truck manufacturers Freightliner, International, Peterbilt, Kenworth and Volvo in offering UltraShift PLUS as an option on specific carrier and engine models.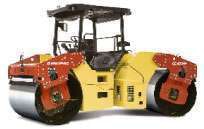 Dynapac
Rollers tailored to local conditions
The Dynapac CC Line series of eight double-drum and eight combi-tandem asphalt rollers offers sizes and options designed to match contractor needs and work style. The rollers can be tailored to local conditions, including engine power, operator's platform and air conditioning. Each roller is equipped with the DCA-A Compaction Analyzer that monitors and records key parameters via a GPS-assisted, graphic, real-time display of temperature and number of passes.
The CC224HF, CC234HF, CC324HF, CC334HF, CC384HF, CC424HF, CC524HF and CC624HF are dual-drum models. Combi models – CC224CHF, CC234CHF, CC324CHF, CC334CHF, CC384CHF, CC424CHF, CC524CHF and CC624CHF – feature a drum roller and rear set of wheels. All the CC rollers are engineered to compact any type of asphalt mix and feature high frequency/low amplitude for thin layers and high amplitude for thick layers. The rated power is 125 horsepower at 2,200 rpm for the CC424HF, and 152 horsepower for the larger CC524HF and CC624HF models. The new machines have operating masses ranging from 11.6 to 13.9 tons. The weight is split evenly between the front and rear drum modules.
Hobas Pipe USA
Compares pipe flows
Hobas Pipe's Hydraulic Calculator compares the flows of pipes of two different diameters. It uses the Manning's coefficient to account for various hydraulic scenarios and works for new construction or rehabilitation. This tool is free of charge and intended as a quick reference guide. To request a free calculator, send an e-mail to KPaggioli@HobasPipe.com with a complete address and put "calculator" in the subject line.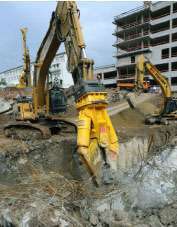 Atlas Copco
Heavy-duty industrial and bridge demolition
The Atlas Copco CC 6000 CombiCutter for Heavy-Duty Demolition is suited to heavy-duty industrial, bridge and building demolition jobs for carrier units in the 127,870- to 187,390-pound class. Available with either universal jaws (U) or steel-cutting jaws (S), the unit features two movable jaws with two main hydraulic cylinders, designed to provide consistently high crushing force throughout the entire operating cycle. The combination of a single- and double-blade jaw arm is designed to provide maximum stability, even under extreme loads.
KPI-JCI
Color monitors: The standard for track-mounted equipment
KPI-JCI's track-mounted equipment now have color monitors as standard equipment. The color displays have a higher resolution than their black-and-white predecessors, which allows for bigger and clearer text and images on the screens that help with navigation, diagnostics and performance monitoring. The brightness of the displays also allows for better viewing in sunlight. The monitors have been installed on track jaws and impactors to include the GT125, FT5260, FT4250, FT2650, FT4240 and FT3055 units.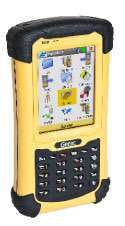 Topcon
Controller with more memory, fast connectivity
Topcon Positioning System's FC-236 is a solid, rugged, powerful handheld receiver and controller with 4 GB of memory and an additional 256 MB of RAM to enable fast network connectivity. The FC-236 has a Microsoft Windows Mobile operating system and includes a 3 megapixel autofocus camera, built-in Bluetooth wireless and 3.5G cellular connectivity. The controller has an IP67 rating and is waterproof and dustproof.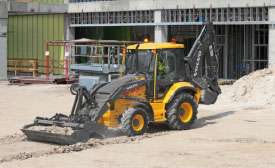 Volvo Construction Equipment
Redesigned Backhoe Loaders
Volvo's BL60B and BL70B offer improved performance, usability and a modern appearance. The machine combines, in a single, stable platform, the strength and simplicity of a wheel loader with the power and performance of an excavator, says Volvo. With an average operating weight that ranges from 17,500 to 19, 500 pounds, and gross power of 83 to 98 horsepower, the BL60B and BL70B are fitted with two floor-mounted ergonomic levers. Cabs have 15 percent more space than previous models.
Schréder
Intelligent lighting control
Schréder Lighting's Owlet Intelligent Street and Area Lighting Control System is a telemanagement system for monitoring, controlling, metering and managing outdoor lighting for major roadways and city streets that can provide a reliable method of metering an area's street lights to be able to credit a city for its energy savings. Dimming street lights in off-peak times can save up to 30 percent in energy costs, and the Owlet's onboard Metering Chipset monitors and reports power usage with a plus-2 or minus-2 percent accuracy, which is acceptable to most utilities.
Trident Security Devices
Multiple bollards, separate operation
When multiple TSD security bollards from Trident Security Devices are installed in a line, each individual bollard can be operated separately, as opposed to the existing method of one drive unit for the entire bollard line. In addition, any combination of bollards in a multiple row can be programmed to operate as separate units. The devices were subjected to special crash tests that required the security bollard to successfully prevent penetration by a 6.8-ton (15,000-pound) vehicle crashed at 65 km/h (40 mph) Impact Resistance for the K8 Model, and at 80 km/h (50 mph) Impact Resistance for the K12 model.
Networkfleet
Networkfleet's new mobile website provides anytime, anywhere access to GPS fleet tracking information. The mobile site networkfleet.mobi allows users to access Networkfleet's online fleet management system via their mobile phones, including iPhones and Android devices.
Toshiba International
LED lamps get EPA Energy Star label
Twenty of Toshiba International's long-lasting, energy-efficient LED lamps have received the U.S. Environmental Protection Agency (EPA) Energy Star label. An Energy Star-qualified LED lamp uses up to 75-percent less energy and lasts at least 15 times longer than incandescent lighting. The Toshiba lamps listed on the Energy Star-certified product list include select models.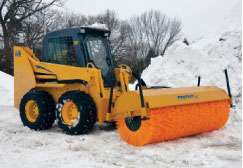 Pro-Tech
Broom attachments minimize surface damage
As a complement to its line of Sno Pusher containment plows, Pro-Tech has introduced five Sno Broom attachments for skid steers and compact tractors. Sno Brooms minimize the potential for damaging surfaces, and they excel at removing snow against curbs and walls, as well as other hard-to-reach areas. Skid-steer models are available with 60-, 72- and 84-inch broom widths and come with a universal coupler for attaching to equipment with various hydraulic flow ratings. Furthermore, they can be hydraulically angled 30 degrees left or right. The PTO-driven tractor model is 84 inches wide and is designed for machines with at least 30 horsepower. It comes standard with a three-point hitch mount. Other standard features include storage stands, high-density poly bristles and a 155-degree brush hood. Maximum broom speed is 200 rpm.