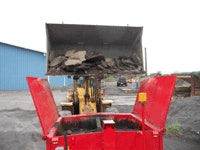 Falcon manufactures asphalt recycling hot patchers that allow permanent repairs to be made with recycled asphalt for under $15/ton on utility cuts, patches, and potholes, according to the company.
Repairing roads, parking lots and pathways with recycled asphalt reduces costs and helps the environment.
Founded in 2004, Falcon is a category leader, having been recently recognized by Inc. Magazine as the fastest-growing road maintenance equipment manufacturer in North America. Municipalities in 35 states and 17 state departments of transportation include Falcon equipment in their road maintenance program.
Many street departments and asphalt contractors do not realize that equipment exists that will allow them to recycle asphalt chunks and millings. Upon seeing a Falcon asphalt recycling demonstration, they quickly realize that a Falcon asphalt recycler is an affordable, portable hot-mix plant that allows you to make permanent hot mix asphalt repairs year-round.
A Falcon Asphalt Recycler is versatile:
Recycle asphalt chunks and millings
Hold hot mix for days
Heat and re-heat cold patch
A Falcon Asphalt Recycler will:
Provide access to hot mix when the asphalt plant is closed:
cold weather months,
weekends, and
evenings
Reduce material costs by:
replacing purchased cold patch and hot mix with recycled asphalt chunks and millings
eliminating material waste that occurs when asphalt hardens in an unheated truck bed
Reduce labor cost by :
eliminating time wasted traveling to the asphalt plant (and waiting in line)
ending the need to repair the same pothole several times (common with cold patch)
Falcon manufactures trailer, dump box, slip-in and hook-lift models with hopper capacities ranging from 1/2 ton to 6 tons. A full line of bolt-on options is available at https://falconrme.com/.