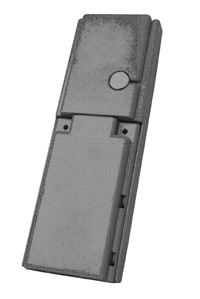 Networkfleet, a leader in wireless fleet management, today announced the availability of the AT-1400 Asset Tracker, a rugged battery-powered tracking device for fixed and movable assets without a constant source of power. Now property and equipment such as trailers or generators can be tracked along with vehicles in Networkfleet's existing online system that includes GPS mapping, dashboards, reports and alerts.
The AT-1400 uses the latest wireless communication and GPS technology to report location and movement for field assets, including heavy duty equipment or any valuable property. With a battery life lasting up to six years, the AT-1400 can be used by businesses to locate any asset at any time. The asset tracker is simple to install, offers configurable location update rates, and is programmable over-the-air.
"Businesses need to track all of their valuable assets, not just vehicles. The Networkfleet asset tracker gives them the ability to locate equipment quickly and ensure that their properties are secure," said Keith Schneider, president and CEO of Networkfleet. "This is another example of how Networkfleet is delivering new solutions that help customers improve efficiency and reduce operating costs."
The AT-1400 features hardened, sealed enclosures to allow for maximum functionality in extreme environmental conditions and comes with a three year device warranty. Fleet managers using Networkfleet's online application can view all assets on maps alongside their fleet vehicles. Reports and alerts can be used to determine exact GPS location, if and when an asset has been moved, assets that are closest to a particular location or landmark, geofence violations and more.
About Networkfleet, Inc.
Networkfleet, Inc. is a leading provider of wireless fleet management services that improve fleet efficiency by reducing fuel use, emissions and maintenance expenses. The company's technology combines vehicle diagnostic monitoring with an online GPS fleet tracking system. Networkfleet has more than 50 patents issued or pending surrounding remote diagnostics and has received numerous awards for its technology. Founded in 1999, Networkfleet is a wholly-owned subsidiary of Hughes Telematics, Inc. and is headquartered in San Diego, CA. For more information, please visit https://www.verizonconnect.com/.
About Hughes Telematics, Inc.
Hughes Telematics, Inc. (HTI) is a leader in implementing the next generation of connected services. Centered on a core platform of safety and security, the company offers a portfolio of location-based services for consumers, manufacturers, fleets and dealers through two-way wireless connectivity. In addition to owning Networkfleet, HTI is also the majority owner of Lifecomm, located in Atlanta, Ga., which plans to offer mobile personal emergency response services through a wearable lightweight device with one-touch access to emergency assistance. Additional information about HTI can be found at http://www.hughestelematics.com/.