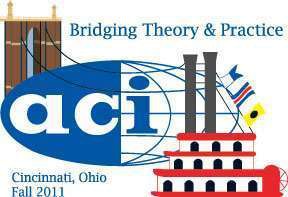 The American Concrete Institute's (ACI) Fall 2011 Convention will take place Oct. 16-20, 2011 in Cincinnati, OH, USA.
In congruence with the Fall Convention's theme, Bridging Theory and Practice will bring together engineers, architects, contractors, educators, manufacturers, and material representatives to collaborate on concrete codes, specifications and standards. Intended to deliver real world applications for emerging trends and industry topics the convention will feature 300+ committee meetings, 30+ technical sessions, two technical tours, an industry trade exhibition, networking opportunities and more.
Student events include the new ACI Career Fair for Students and Young Professionals, Student Pervious Cylinder Competition and Student Project Competition Presentation, the Student and Young Professional Networking event and Student Lunch.
All attendees are encouraged to share their expertise and get involved in any of the committee meetings offered at the convention. Attendee participation in committees is essential in advancing the quality, safety, efficiency, and profitability of the concrete industry.
The convention will be held at the Millennium Hotel and Duke Energy Convention Center. The Millennium Hotel is offering reduced sleeping room rates for convention attendees based on availability. Attendees who register for the convention by Sept. 18, 2011 will receive reduced registration rates.
To learn more about the convention sessions and events please visit www.aciconvention.org.