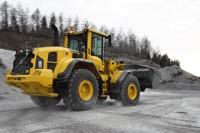 Designed for high production applications in heavy infrastructure, quarrying and recycling, the L110G and L120G are the latest additions to the Volvo flagship G-Series wheel loader range. At 19.8 – 22.0 tons (18 – 20 tonnes), these strong and versatile machines fulfill the requirements of the latest U.S. emissions legislation — while at the same time boasting improvements in a number of other important areas.
When compared to the models they replace, the numbers speak for themselves. The L110G and L120G feature a 25 percent increase in lifting force, a 15 percent increase in breakout force and lower fuel consumption — up to 5 percent in load-and-carry and truck loading duties. This improved efficiency comes with enhanced ease of operation and reliability — significantly reducing the lifetime operating costs per ton of these machines. All this comes wrapped in a modern exterior design and with improved operating environment and better visibility.
Designed and produced by Volvo
Featuring new engines and driveline systems for improved productivity, lower emissions, greater smoothness, serviceability and operator comfort, the L110G and L120G are fitted with a Tier 4i certified engine that is married to drive train, hydraulics and lifting systems that are all designed and produced by Volvo to work in perfect, productive, fuel efficient harmony. The engine is a Volvo six cylinder turbocharged V-ACT (Volvo Advanced Combustion Technology) off-highway diesel unit, which features cooled gas recirculation and a particulate filter with active regeneration. The active-type diesel particulate filter (DPF) temporarily holds the particulate matter and then incinerates it, further reducing emissions. This process is conducted without any loss of performance or operation.
Producing between 256 – 268 hp (191 – 200 kW), these machines feature improved engine response at low engine speeds. As well as meeting the low emissions requirements of the legislation, the D8 engine also leads the industry in terms of fuel efficiency, reliability and noise. The production of torque and power at low engine speeds, combined with load-sensing hydraulics, removes the need to overrun the engine, which in turn extends engine life as well as lowering fuel usage and dramatically reducing noise.
A waste gate on the turbocharger allows some of the exhaust to bypass the turbine when the set intake pressure is achieved.This contributes to good engine response across the entire engine speed range. A hydraulically driven, electronically controlled cooling fan works only when needed, increasing engine power, while lowering noise and fuel consumption.
The L110G and L120G are fitted with heavy duty axles whose housings absorb the weight of the machine and load. This means that the axle shafts transmit torque to the hub reductions, thereby reducing stresses on the propeller and shafts. The rear axle cradles are maintenance free and the front axle is fitted with a hydraulically operated differential lock. This transfers 100 percent power to the wheels and reduces wheel spin, giving good traction in soft or slippery conditions.
High pressure hydraulics = greater lifting force
Two stronger, variable displacement load-bearing axial piston pumps are fitted, allowing higher working hydraulic pressure and providing superior control of the load and attachments — as well as higher breakout force, faster lifting and tilt functions. Load sensing hydraulics match power when it is needed for lower fuel consumption and high performance. Transmissions feature a stiff torque converter and the Automatic Power Shift (APS) concept ensures the loader always operates in the ideal gear by sensing engine and travel speed, kick-down, engine braking and other factors. Offering operators a choice of four gear shifting programs, APS results in more efficient work cycles with lower fuel consumption and wear.
Volvo patented Torque Parallel (TP) linkage combines the benefits of Z-bar and parallel linkages in one system, delivering good parallel movement and high breakout force, even in the highest lift position. The TP linkage has a strong and durable design that is designed to withstand the toughest conditions. Its geometry enables operators to get closer to the materials and raise them quickly, with smooth horizontal stability. Excellent visibility through the linkage and quick coupler promotes faster and safer loading. Pallet forks can easily be seen without the operator needing to shift in the seat for a better view.
Industry-leading Care Cab
The latest generation Volvo Care Cab fitted to these wheel loaders extends its already legendary status. ROPS/FOPS approved, visibility in the spacious new cabin is excellent, to the rear, to the bucket edge and to the centrally located instrumentation. With controls that fall easily to hand, operators can breathe easily thanks to efficient air management and filtering systems. This allows them to get on with the job in hand in a comfortable, clean, low-noise and vibration work environment. The servo controls are mounted on the operator seat, and include settings such as Return to Dig. Boom and bucket positions can be set electronically from inside the cab so there's no need to use tools and move around sensors outside the cab. Also, encouraging operators to work smoothly, the accelerator pedal applies an appropriate amount of mechanical back pressure, to facilitate low fuel consumption operating techniques (Eco-Pedal) and optimize fuel efficiency.
Caring for the machine
The L110G and L120G come with advanced electronic monitoring diagnostics that are designed to prolong machine life, enhance uptime and maximize productivity. Contronics monitors functions in real time and alerts the operator if problems occur. MATRIS, meanwhile, charts and analyzes data on machine handling and operation. Finally, CareTrack, the Volvo Construction Equipment telematics system, allows machine location and operating data to be securely viewed via the Internet from anywhere in the world, aiding fast decisions on maintenance and repairs.
Servicing is made easy, with daily pre-start items quickly checked and scheduled service items conveniently grouped together. Both machines are fitted with a newly designed engine cover that provides excellent ventilation of the engine compartment. The cover can be electronically opened backwards — giving open access for fast and easy cleaning or servicing duties. Centralized, ground level lubrication banks lower the time spent on scheduled maintenance. And consumables like filters are easy to reach and easy to replace.
The L110G and L120G are available with a large number of purpose built Volvo attachments to suit the application, including rehandling and light material buckets. It's not just buckets — there is a wide range of other attachments available, as well as brackets that make changing tools fast and easy — all designed and approved by Volvo to work in perfect harmony with the machines' link-arm geometry, breakout, rim pull and lifting forces.