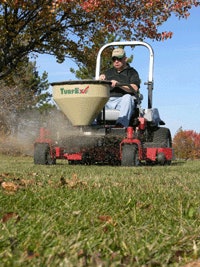 TurfEx introduces the TS200 spreader as part of its full line of zero-turn mower attachments. Capable of spreading seed, fertilizer and ice melt, the spreader is engineered specifically to maximize mower productivity.
The spreader comes with a unique universal mount, which helps it attach quickly to most available zero-turn mowers. It holds up to 2.5 cubic feet of material and features a corrosion-resistant polyethylene hopper to reduce weight and maintenance concerns.
The spreading operation is controlled via the manual flow gate and electric-powered spinner, both of which can be actuated from the mower's seat. Additionally, the spinner includes adjustable paddles for fine-tuning the spread pattern.
A clear cover comes standard with the spreader to prevent foreign objects from entering the hopper and allows the operator to easily see material levels from the seat. Like all TurfEx products, the spreader is covered by a two-year limited warranty.
Besides the spreader, TurfEx also offers sprayer, sweeper, dethatcher and leaf pusher attachments for zero-turn mowers. Each one utilizes an innovative mount system for quick attachment, allowing the operator to efficiently switch from one task to another.
TurfEx is a product division of TrynEx International. Other TrynEx brands include SnowEx winter maintenance equipment, and SweepEx broom attachments. For more information, contact TrynEx International, 531 Ajax Drive, Madison Heights, MI 48071, call 866-5TURFEX or 248-586-3500, fax 248-586-3501, e-mail info@trynexfactory.com or visit www.trynexfactory.com.