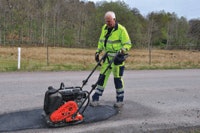 Commerce City, CO – A full line of small-size soil and asphalt light compaction equipment is available from Chicago Pneumatic. Included in the category is a range of forward soil and asphalt plates, high-speed asphalt plates, forward and reversible plates, a walk behind double drum roller, tampers, and a vibratory trench compactor. The products are designed to meet the variety of needs that contractors and rental companies face.
Forward soil and asphalt plates
There are six models of Chicago Pneumatic forward soil and asphalt plates available. They range from operating weights of 113- to 275-pounds and plate widths of 13- to 20-inches. Centrifugal force ranges from 1,888 – to 4,800-pounds. All are powered by Honda engines.
High-speed asphalt plates
The MV90 and MV100 are equipped with a large water tank and a stainless-steel sprinkler system designed for compacting asphalt quickly and without interruption. The machines are designed to be easy to turn and maneuver. Classified as light machines the MV90 weighs 189 pounds, while the MV100 weighs 205 pounds.
Forward and reversible plates
Intended for more demanding jobs, the range of seven models of Chicago Pneumatic forward and reversible plates offer operating weights ranging from 344- to 1,111-pounds and centrifugal force of 7,875- to 13,488-pounds. The heaviest model, the MV480, features an electric start. All Chicago Pneumatic forward and reversible plate machines are available in a choice of gas-powered Honda engines or Hatz diesel engines, which are housed within a heavy-duty frame. The bottom plates are constructed from Hardox 400 steel with a hardness of 400 HBW.
Walk behind double drum roller
The MR7000 is a fully hydraulic, compact, walk-behind roller with stepless forward/ backward control and ergonomic handles that fold-up for storage and transporting. Equipped with a Hatz engine with a power reserve feature and a 19-gallon water tank that's positioned to protect the hydraulic components, the MR7000 is intended for compacting thin layers on granular soils and asphalt. The machine features an oil-cooling system designed to reduce unplanned stops and increase the working life.
Tampers
Chicago Pneumatic's four models of Tampers are designed to be well-balanced for ease of use. Operating weights range from 137- to 185-pounds and provide centrifugal force from 2,985 to 4,800-pounds. The interchangeable bottom plates are 9-inches wide on the smallest unit and 11-inches on the other three models. The 4-stroke engine has an efficient carburator and a high capacity air filter – which means lower fuel consumption and lower exhaust emissions.
Vibratory Trench Compactor
The Bluetooth radio-controlled LP8500 Trench Compactor is designed for cohesive soil, both in confined areas (such as trenches, construction back-fills) and on roads. Fully hydraulic, the LP8500 is powered by a 17 hp at 2400 rpm Hatz diesel engine. The machine is equipped with an emergency manually controlled system which includes an emergency push-stop bar and a safety push-stop button. The operating weight is 3,683 pounds and centrifugal force of 16,500 pounds. The Chicago Pneumatic vibratory trench compactor features 24- or 33-inches high profile drums as standard.