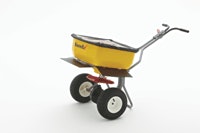 HEIGHTS, Mich. – SnowEx introduces the SP-85SS walk-behind broadcast spreader, which comes with a stainless steel frame. This new feature helps eliminate rust issues on the frame, while the hopper is protected by corrosion-resistant polyethylene construction.
The SP-85SS offers a 160-pound capacity and is capable of spreading bagged rock salt and pelletized material. For enhanced material flow, the unit contains an exclusive single-slot port design and extra wide throat opening. It also comes with a 10-inch plastic spinner and adjustable deflectors, allowing the SP-85SS to spread material up to 20 feet wide.
Other standard features include a top screen to keep out large chunks of material, a clear poly cover to prevent foreign materials from entering the hopper, and 13-inch pneumatic tires to push easily over snow and ice. The SP-85SS is covered by a two-year limited warranty.
In addition to the SP-85SS, SnowEx offers a full line of spreaders, pre-wetting/de-icing sprayers, snowbrooms and other gear for winter maintenance applications.
SnowEx is a product division of TrynEx International. Other TrynEx brands include TurfEx turf care equipment, and SweepEx broom attachments. For more information, contact TrynEx International, 531 Ajax Drive, Madison Heights, MI 48071, call 800-725-8377 or 248-586-3500, fax 248-586-3501, e-mail info@trynexfactory.com or visit www.trynexfactory.com.