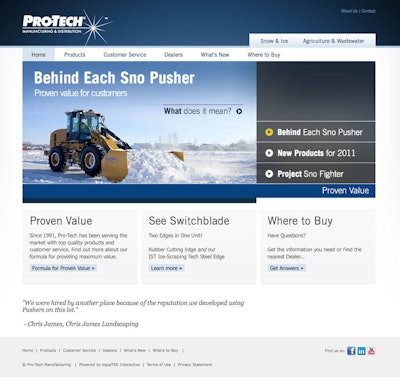 Pro-Tech Manufacturing and Distribution has launched its new Website, www.protechcorp.com.
The site incorporates new tools and improved navigation.
Some of the helpful tools on Pro-Tech's new Website include a dealer locator, equipment selector and the Pro-Tech forum, where visitors can discuss industry-related topics with company representatives, dealers and other professionals. The site also contains a dealer portal for enhanced dealer support.
"The Website launch coincides with the release of Pro-Tech's new Sno Blade, Sno Blower and Sno Broom products," said Mike Holihan, director of marketing for Pro-Tech. "It will help us provide further proven value to our customers and dealers as we expand our product line."