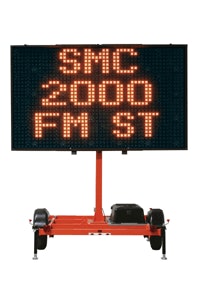 GARLAND, TEXAS – March 2011 – The new cost-effective, Precision Solar Controls full matrix variable message display, the SMC 2000 FM-ST Solar Message Center, is now available from Work Area Protection Corp.
The portable SMC 2000 FM-ST Solar Message Center displays text and graphic messages on a 76-inch by 139-inch panel and features an on-board dedicated user-friendly NTCIP-compliant controller that provides easy programming with secure password protection.
The message center uses five, high-intensity, solid-state LEDs per 2-inch pixel to create more uniform light output for increased message definition and distance legibility of up to 1000 feet. Automatic intensity control provides optimum LED intensity.
The Solar Message Center is powered by a battery bank, which is continually recharged by a solar array. The SMC 2000 FM-ST battery bank is designed to provide 21 days of continuous operation without sunlight, and the solar panel array is designed to recover one day's power requirement in 2-1/2 hours.
"The new SMC 2000 FM-ST Solar Message Center from Work Area Protection is MUTCD-compliant," said David Wilfong, vice president, Work Area Protection, Precision Solar Controls brand products. "Designed to meet the varying specifications and requirements of different states, this message center is a cost-effective solution that provides full matrix display for text and graphic messages."
Ideal for directing traffic flow, the SMC 2000 FM-ST Solar Message Center comes with 250 preprogrammed text messages, 60 graphic and 20 arrow board displays. One hundred user-created messages can be programmed and stored in the system's controller to minimize set-up time. The computer enables users to reduce the number of keys needed to program messages, and it also features calendar programming capabilities.
The SMC 2000 FM-ST Solar Message Center comes with an industrial-grade structural steel trailer that features powder-coat paint and a 3,500-pound suspension system for stability and durability.
Several options are available with the SMC 2000 FM-ST Solar Message Center: a remote communication system, radar, tilting and rotating solar panels, increased autonomy or recharge capabilities, trailer brake systems, a pintle ring and combination hitch, steel fenders, steel battery box, 6-Volt battery bank and custom paint.
Work Area Protection offers a full line of solar powered products, including message centers and arrow boards. For more information on the new SMC 2000 FM-ST Solar Message Center, contact Precision Solar Controls Inc. at 2205 Hightower Drive, Garland, Texas 75041. Phone: 972.278.0553. Toll free: 800.686.7414. Fax: 972.271.9583. E-mail: sales@precisionsolarcontrols.com. Website: www.precisionsolarcontrols.com.