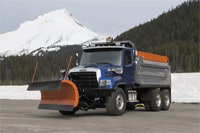 INDIANAPOLIS – March 8, 2011 – Freightliner Trucks today introduced its all-new 114 Severe Duty (SD) platform equipped with a 14.5 ft. elliptical dump body, 10 ft. front plow and belly scraper at the 2011 Work Truck Show.
"By introducing the 114SD platform with its available set-forward axle configuration and ground clearance package, we now have full product coverage in the government snow plow market," said TJ Reed, director of product marketing, Freightliner Trucks

Built to Plow
Ideal for resisting corrosion, the lightweight aluminum cab is e-coated for added protection against the harshest winter elements and features large door openings for easy entry and egress.
The snow plow-friendly hood incorporates a radiator-mounted stationary grille that allows the hood to be open when equipped with a variety of different front frame extension mounted snow plow attachments. For additional convenience, optional under-hood access hatches are also available for day-to-day maintenance checks. Plus, the contoured back of hood design all but eliminates the build up of snow on the cowl.
"Snow plow operators are often operating in extreme weather conditions, and require a solution that won't slow them down," said Reed. "We've included elements in this truck like extreme climate thermal insulation, inside/outside engine air intake with snow door and electronic control modules located inside the cab to protect them from the elements."
The 114SD SFA snow plow is equipped with the Detroit Diesel DD13® engine with BlueTec® emissions technology. Featuring 450 hp at 1,650 pound feet of torque, the 114SD SFA snow plow provides maximum torque at low rpm for added efficiency in any inclement weather.
In addition to the DD13, the lightweight Cummins ISL and ISC will be available for the 114SD SFA in late 2011.
TEM Friendly Features
The 114SD SFA snow plow offers TEMs features that will not only decrease installation time, but provide the ideal solution for a variety of plow configurations.
The snow plow cross member for wing plow support eliminates the need for TEMs to cut into the chassis, also strengthening the wing plow configuration on the truck. The clean back-of-cab is achieved by an under step Selective Catalytic Reduction (SCR) after treatment system, and 70 gallon fuel tank with six-gallon DEF tank, and three battery mount, all packaged under the cab.
Freightliner's new SmartPlex Electrical System also enhances the TEM experience. The system enables TEMs to install SmartPlex flex switches and lamp modules in the overhead counsel with click-in, laser – etched plastic indicators that feature snow plow specific icons. These switches and lamps are easily programmed to each customer's unique requirements through Freightliner's ServiceLink® software.
Freightliner Trucks worked with Clackamas, Ore.-based Columbia Body for the Work Truck Show display plow.
"What really stands out on the 114SD SFA was the easy under cab and frame rail access. Freightliner did an excellent job designing and keeping these areas free and clear for upfitting," said Brian Newcomer, director of sales and administration, Columbia Body. "The team at Freightliner did a nice job designing this chassis, which made our install faster and easier."