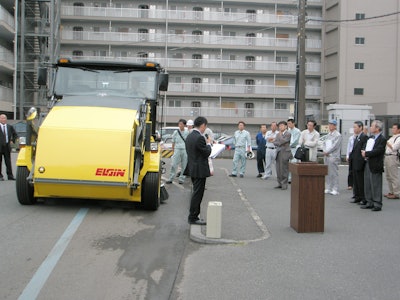 Street sweeper manufacturer Elgin Sweeper completed a Pelican three-wheel broom sweeper sale to Keiyo-Kogyo, based in Tokyo, Japan.
A member of the Tokyo Sweeping Association, Keiyo-Kogyo is using the Pelican to supplement its current fleet of 10 sweepers to clean the streets of Tokyo every night. Three-wheeled sweepers like the Pelican have been used by the city of Tokyo since 1957.
Representatives of the Tokyo Sweeping Association came to the United States to meet with various sweeper manufacturers and their equipment dealers for product demonstrations. During their visit, the association members visited Sansom Equipment Company, Inc., an Elgin Sweeper dealer with locations in Birmingham and Mobile, Ala., for a Pelican sweeper product demonstration.
Daiichi Jitsugyo Co., Ltd., Elgin Sweeper's dealer in Tokyo, facilitated the sale of the Pelican sweeper to Keiyo-Kogyo. The dealer worked closely with the customer and representatives of the Tokyo Sweeping Association on the sale, including helping to secure a special licensing agreement for the wider Pelican sweeper to be able to sweep in Tokyo. The Pelican sweeper is three inches wider than Japanese laws allow, so a special permit was needed.