Rollers/Compactors
By Tina Grady Barbaccia
Smooth-Drum Vibratory Compactors 11.3 metrics tons and above

DYNAPAC CC524 HF
• 11.6 metric tons operating weight
• 77 inch drum width
• 152 gross horsepower
• 35,325 pounds maximum centrifugal force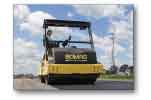 BOMAG BW278AD-4
• 11.7 metric tons operating weight
• 78 inch drum width
• 130 gross horsepower
• 37,100 pounds maximum centrifugal force

HYPAC C778D
• 11.7 metric tons operating weight
• 78 inch drum width
• 130 gross horsepower
• 37,100 pounds maximum centrifugal force
BOMAG BW190AD-4 HF
• 11.8 metric tons operating weight
• 78.7 inch drum width
• 134 gross horsepower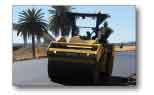 CATERPILLAR CB54 XW
• 11.9 metric tons operating weight
• 79 inch drum width
• 137 gross horsepower
• 24,729 pounds maximum centrifugal force
• 40,950 pounds maximum centrifugal force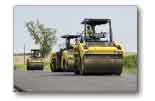 BOMAG BW190AD-4AM
• 12.2 metric tons operating weight
• 78.7 inch drum width
• 134 gross horsepower
• 55,575 pounds maximum centrifugal force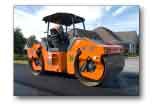 HAMM HD+ 120 VV
• 12.51 metric tons operating weight
• 78 inch drum width
• 134 gross horsepower
• 38,925 pounds maximum centrifugal force

VOLVO DD112HF
• 12.55 metric tons operating weight
• 78.7 inch drum width
• 148 gross horsepower
• 42,070 pounds maximum centrifugal force
Caterpillar CB54 XW Versa Vibe
• 11.9 metric tons operating weight • 79 inch drum width
• 137 gross horsepower • 23,243 pounds maximum centrifugal force
BOMAG BW278AD-4AM
• 12 metric tons operating weight • 78 inch drum width
• 130 gross horsepower • 55,575 pounds maximum centrifugal force
HYPAC C778D AM
• 12 metric tons operating weight • 130 gross horsepower
• 78 inch drum capacity • 55,575 pounds maximum centrifugal force
Hamm HD+ 120 VV HF (High Frequency)
• 12.51 metric tons operating weight • 78 inch drum width
• 134 gross horsepower • 38,925 pounds maximum centrifugal force
Tandem Smooth-Drum Vibratory Compactors 11.3 metrics tons and above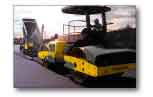 VOLVO DD118HF
• 12.55 metric tons operating weight
• 78.7 inch drum width
• 148 gross horsepower
• 42,680 pounds maximum centrifugal force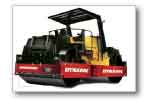 DYNAPAC CC624 HF
• 12.6 metric tons operating weight
• 84 inch drum width
• 152 gross horsepower
• 38,025 pounds maximum centrifugal force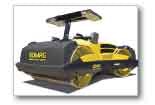 BOMAG BW284AD
• 12.89 metric tons operating weight
• 84 inch drum width
• 160 gross horsepower
• 41,235 pounds maximu centrifugal force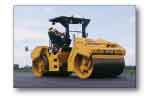 CATERPILLAR CB64
• 13.0 metric tons operating weight
• 84 inch drum width
• 160 gross horsepower
• 31,100 pounds max centrifugal force
HAMM HD+ 140 VV
• 13.13 metric tons operating weight
• 84 inch drum width
• 134 gross horsepower
• 40,500 pounds maximu centrifugal force
SAKAI SW880
• 13.41 metric tons operating weight
• 79 inch drum width
• 131 gross horsepower
• 39,790 pounds maxim centrifugal force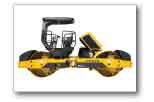 VOLVO DD132HF
• 13.8 metric tons operating weight
• 84 inch drum width
• 148 gross horsepower
• 41,720 pounds maxim centrifugal force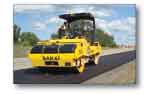 SAKAI SW990
• 13.97 metric tons operating weight
• 84 inch drum width
• 166 gross horsepower
• 41,590 pounds maximum centrifugal force
Volvo DD118HFA
• 12.55 metric tons operating weight • 148 gross horsepower
• 78.7 inch drum capacity • 42,070 pounds maximum centrifugal force
Hamm HD+ 120 VO (Oscillation)
• 12.78 metric tons operating weight • 134 gross horsepower
• 78 inch drum capacity • 38,925 pounds maximum centrifugal force
Hypac C784
• 12.89 metric tons operating weight • 160 gross horsepower
• 84 inch drum capacity • 41,235 pounds maximum centrifugal force
Caterpillar CB64 Versa Vibe
• 13.0 metric tons operating weight • 137 gross horsepower
• 84 inch drum capacity • 23,243 pounds maximum centrifugal force
Tandem Smooth-Drum Vibratory Compactors 11.3 metrics tons and above
Hamm HD+ 140 VV HF (High Frequency)
• 13.13 metric tons operating weight • 134 gross horsepower
• 84 inch drum capacity • 40,500 pounds maximum centrifugal force
Hamm HD+ 140 VO (Oscillation)
• 13.13 metric tons operating weight • 134 gross horsepower
• 84 inch drum capacity • 40,500 pounds maximum centrifugal force
Volvo DD138HF
• 13.8 metric tons operating weight • 173 gross horsepower
• 84 inch drum capacity • 42,260 pounds maximum centrifugal force
Volvo DD138HFA
• 13.8 metric tons operating weight • 173 gross horsepower
• 84 inch drum capacity • 41,720 pounds maximum centrifugal force
Dynapac CC722
• 16.8 metric tons operating weight • 228 gross horsepower
• 84 inch drum capacity • 48,375 pounds maximum centrifugal force
BID LIST
We've redesigned this section to provide you with the most important specs on a particular product category subset. The specs come from the online spec guide of our sister magazine, Equipment World. We hope you find our new spec sheet useful. If you have any comments or questions, please contact Better Roads Executive Editor Tina Grady Barbaccia at tbarbaccia@rrpub.com or 630-364-2306.
To access the online spec guide to compare or search for equipment, go to https://www.specguideonline.com//. For more complete specs on Tandem Smooth Drum Vibratory Rollers, go to https://www.digitalmagazinetechnology.com/a/?KEY=equipmentworld-11-specguide#page=245.
NEXT MONTH: Look for our focus on motors graders in classes ranging 115 to169 horsepower.