The new Terex Hydra Platforms HPT 11/38 truck-mounted under-bridge access platform from Terex Roadbuilding is the company's first cross model, matching the trailer platform with a truck chassis. Weighing less than 26,001 pounds, the new HPT 11/38 truck-mounted model does not require a CDL license to operate.
The platform was introduced at World of Concrete 2011 in Las Vegas and can be seen at Terex booth C-5836.
"An operator needs only a regular state-issued driver's license to drive the HPT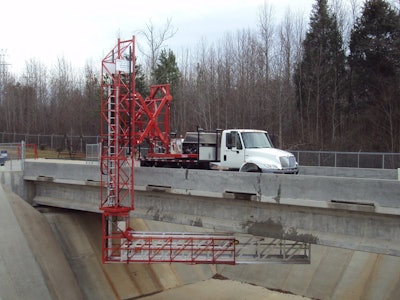 11/38," Mark Duckwall, sales manager of under-bridge access platforms for Terex Roadbuilding, said in a written press statement. "This makes it much more convenient for the contractor to transport, and it's an ideal unit for the rental industry."
The new HPT 11/38 features a 38-foot- long and maximum 42-inch-wide telescoping platform. Its platform weight capacities of 1,000 pounds total and 500 pounds at the end of the platform are enough to securely accommodate multiple workers with tooling. Offering a maximum 16-foot lowering depth and 180-degree rotation, this under-bridge access platform is perfect for applications ranging from bridge inspection and restoration to stripping operations and utility work.
Similar to all other Terex® Hydra Platforms models, the new HPT 11/38 features five-minute deployment and the patented Tower Separation System. Platform deployment and operation are powered by a separate 18-hp (13.4-kW) gasoline engine with auto idle, saving fuel and wear and tear on the truck's power take-off (P.T.O.). Offering a maximum 6-foot extension, the exclusive Tower Separation System includes hydraulically adjustable cross-linking arms and a level walkway with arm rails connecting the truck's turntable subframe to the main outside vertical tower and platform.
"At no time are the workers disconnected from the bridge deck like they are with traditional lifts," said Christer Bradley, director of sales & marketing, under-access bridge platforms for Terex Roadbuilding, in press statement. "Power failure does not prevent the worker from returning to the deck when using our unit."
The unit's platform deploys to the right side of the truck. This model's tower offers 7 feet of vertical height clearance to navigate around obstacles on the deck. A voice-activated communication system connects the workers on the platform with operators at the main control panel at the rear of the truck and inside the truck cab. Hydraulically deployed caster outriggers on the unit help to ensure platform stability during operation.
With its compact 8-foot, 2-inch width, the new Terex Hydra Platforms HPT 11/38 requires only a single lane width for operation, keeping lane closures to a minimum. Mounted on a diesel-powered truck chassis, the unit has a transport height of 11 feet, 6 inches and length of 32 feet.