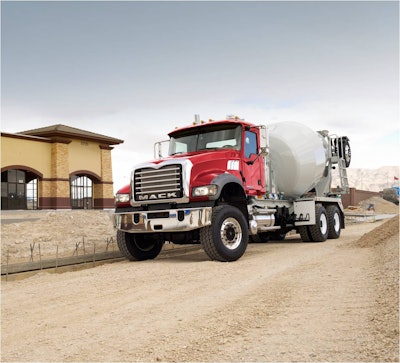 The Concrete Industry Management (CIM) program –- a business intensive program that awards students with a four-year bachelor of science degree in Concrete Industry Management -– will auction off a set-forward, front-axle Mack Truck model GU713 as the signature item for its sixth annual auction at World of Concrete.
The truck, equipped with a McNeilus 11-cubic-yard Bridgemaster concrete mixer donated by Mack Trucks Inc. and McNeilus Co., a division of Oshkosh Truck, has a combined value of more than $160,000.
The truck includes the following:
•MP7-365M engine with US07 emissions with Mack engine brakes.
•Fuller RTO14909ALL transmission.
•Air Ride Cab and Bostrom Air Talledega driver seat.
•Tilt -Tele steering column.
•FXL20 20,000-pound Mack front axle.
•SB38 Mack Tandem rear axle with Chalmers 46,000-pound suspension.
•The cab is hydrant imron elite red and the frame is black.
•Front wheels are aluminum and rear wheels (eight) are steel painted white.
•248-inch wheel base.
The mixer is a white McNeilus Bridgemaster 11-cubic-yard transit and includes the following:
•¼-inch AR steel drum and fins.
•125 aluminum cross mount water tank.
•Aluminum fenders.
•Three extension chutes on vertical hanger at rear pedestal.
•Power up/down chute lift.
•Air chute lock.
The sixth annual auction will be held on Thursday, Jan. 20 in the North Hall Room N262 of the Las Vegas Convention Center. The silent auction will be held from 11 a.m. to 1 p.m. and the live auction begins at 1 p.m. Once again this year, Internet bidding will be available on the Ritchie Brothers website, www.rbauction.com.
To participate in electronic auction bidding, bidders must register a week in advance. Those participating in the auction at the WOC can register on-site.
Those interested in making a donation should contact CIM Auction Committee Chairman Peter Brewin at peter.brewin@gmail.com or 214-693-6669