Difference-Makers
Better Roads editors choose the year's top products.
This year we've spent some great times clambering over and operating equipment. Tires were usually too big to kick but we fiddled with any dials and levers we could fiddle with. We went through endless online videos and spec sheets, iPad launches and press conferences, interviews with engineers and marketing gurus and we even made it to Paris' huge Intermat show in spring.
What you see in our 2012 Top Rollouts is a collection of outstanding products now in our market. We looked for ingenuity, for engineering boldness and excellence, the wow factor, evidence of critical thinking and evidence that people had gone out of their way to address problems or advance techniques, and perhaps most of all we realized our limitations. This is a short list. Leave your company brand or favorite brand out of the equation and try it. It will lead to some very productive debates.
There is evidence throughout of how OEMs have learned to seek and respond to user input, to be more "interactive" with their customers when it comes to new or upgraded products.
So this is our list; it probably won't match yours top to bottom. But it is a way for us to acknowledge some of the industry leaders, some of the companies, some of the engineers and designers who did something special to bring us outstanding products – to us and our ways of thinking the best of them – in 2012.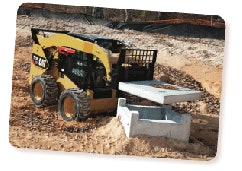 CATERPILLAR
We want small but we want power, and there is endless pressure on engineers to deliver more of both in the same package. The Cat people have delivered. While boosting its 272 skid steer and 299 compact track loader models to D Series versions, Caterpillar took the opportunity to push the boundaries of compact construction equipment. The company rolled out D-series version of its 272 skid steer and 299 compact track loaders at World of Concrete 2012 but it also rolled out a high-performance XHP version of each loader. The 106-horsepower 272D XHP and 299D XHP are the largest, most powerful skid steer and compact track loader Caterpillar has ever built. The 9,304-pound 272D XHP skid steer has an operating capacity of 3,600 pounds, rated at 35 percent of tipping load. The 11,647-pound 299D XHP compact track loader has an operating capacity of 4,550 pounds, rated at 50 percent of tipping load.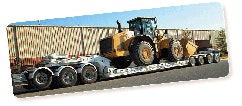 XL TRAILERS
Nothing like seeing a huge piece of construction equipment rolling down our highways. And this big trailer adds some power to the overall impression. XL 110 HDG customized trailer from XL Specialized Trailers, is effective for hauling oversized loads. The main deck is equipped with steel pullouts on 18-inch centers capable of handling up to 60,000 pounds. The low-profile, scraper-style upper deck and a 36-inch flip-neck design, the 54-foot XL 110 HDG customized trailer accommodates multiple truck sizes and handle loads up to 110,000 pounds distributed. XL 110 HDG customized trailer can be equipped with a pivot-style or a flip-style booster.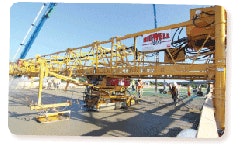 TEREX
Terex exhibited its Bid-Well concrete paving equipment – the 4800 bridge paver and 2418 work bridge – at World of Concrete 2012 in Las Vegas. With standard paving widths exceeding 170 feet, the 4800 paver can will be set to 36 feet wide. A new fogging system features all poly tubing to increase up-time and individually controlled spray nozzles. A new skewable power crown adjuster lets operators automatically make changes to the crown when paving bridge decks at the skew angle.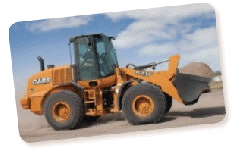 CASE
More fuel efficiency and more productivity. A marriage made in equipment heaven. Case Construction Equipment introduced its 621F wheel loader model at the World of Concrete, 2012 show. The new machine provides up to a 10-percent increase in fuel economy over the previous model, while delivering faster acceleration, quicker cycle times and higher travel speeds.
A new dual-mode shutdown feature maximizes fuel economy and monitors vital engine components. Using the fuel-saver mode, operators can limit idle time. Shutdown time can be set in five-minute increments.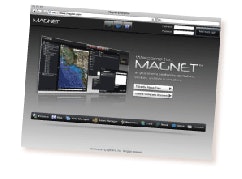 TOPCON
The Cloud has become a very productive place in this industry and here is an example of what it can do. The Topcon Group's Magnet cloud-based solution and cloud-enabled family of software applications makes it possible for real-time collaboration between project manager, field crews, office personnel, engineers, or consultants. The Magnet family includes four basic products: Field, Tools, Office and Enterprise.
SNOWEX
The SnowEx SL-80 and SL-80SS push sprayers for ice management on sidewalks and other small areas are completely electric-powered. Available with a powder-coated steel frame (SL-80) or stainless steel frame (SL-80SS), both sprayers have a 12-gallon, corrosion-resistant polyethylene tank. Each model includes an adjustable-height boomless nozzle, which sprays most salt brine and liquid ice melters up to 48 inches wide. The units also come with an adjustable spray wand for spot-spraying applications. A 12-volt electric pump and rechargeable battery powers the SL-80 and SL-80SS. The pump is rated at 2 gpm at 60 psi.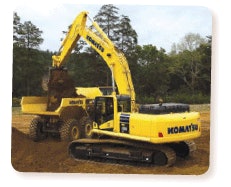 KOMATSU
Outstanding piece of work is this big, bad boy. Komatsu America's PC390LC-10 hydraulic excavator (operating weight is 89,072 pounds)has a flywheel horsepower of 257 horsepower and is powered by a Komatsu SAA6D114E-5 engine and is EPA Tier 4 Interim and EU Stage 3B emissions certified. It features improved hydraulic efficiency and a large undercarriage design that significantly increases lift capacity.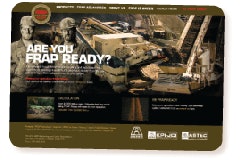 KPI-JCI
This was a year when reclaimed asphalt pavement (RAP) use increased, again. For RAP afficionadoes or wannabees there is now the beFRAPready.com website from KPI-JCI. It helps users determine whether RAP is right for a project. And the website's cost-savings calculator can help determine a ballpark figure on how much money using RAP and/or FRAP might save.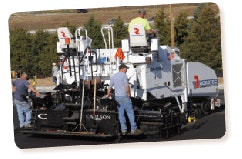 ROADTEC
Sometimes a redesign is really just an upgrade; good improvements but maybe a little bit pedestrian. But some redesigns rock. Both of Roadtec's 10-foot class standard asphalt paver models, the RP-190e rubber-tired paver and the RP-195e track paver, have received a major redesign, including Tier 4i emission technology and other upgrades. These highway-class pavers feature a new adjustable delta plate design, redesigned hydraulic tunnel panels for improved accessibility, an increased fuel capacity from 120 gallons to 135 gallons. Conveyor chains have been beefed up and chromium carbide floor plates are dropped in without bolts.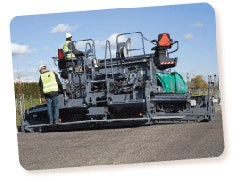 WIRTGEN
Screeds continue to challenge engineers looking for more. Wirtgen America's new screed for the Vögele Vision series of pavers, the front-mount Vögele VF 600 extending screed is equipped with vibration across the full paving width, up to 25 feet, 6 inches. Its basic width is 10 feet, extendable hydraulically up to 19 feet, 6 inches. With bolt-on extensions fitted, it builds up to the maximum width of 25 feet, 6 inches. Its ErgoPlus feature gives the screed operator fingertip control for asphalt placement. The VF 600 screed is capable of many profiles with crown, sloping extensions and berm, each independently operated.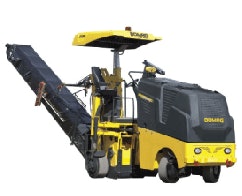 BOMAG
A very nice package this, a clever collection that fits into one efficient machine. BOMAG's new milling machines, the BM500/15 and the BM600/15, feature rotor geometry to reduce vibration, increase service life and easy drum replacement. They are powered by 125-horsepower Deutz liquid-cooled diesel engines. The BM500/15 offers a standard cutting width of 19.7 inches, and the BM600/15 delivers a 23.6-inch cutting width. Both maximize cutting depth at 8.3 inches, and feature a milling radius of less than 10 inches. The new rotor geometry features optimally arranged teeth and a thick shell for uniform, low-vibration and precise cutting.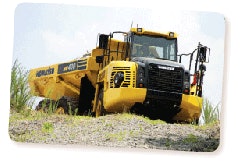 KOMATSU
Big. Fast. Komatsu America's HM400-3 articulated truck is powered by a Komatsu SAA6D140E-6 engine with 469 net horsepower and is EPA Tier 4 Interim and EU Stage 3B emissions certified. The HM400-3 features a maximum gross vehicle weight of 162,569 pounds, hauling up to a 44.1-ton payload at its maximum ground speed of 34.7 mph. The truck's Komtrax technology wirelessly sends information such as such as daily fuel consumption, machine usage, operating hours, location, cautions and maintenance alerts to a secure website.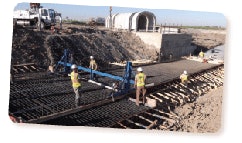 LURA
Some concrete pours are flat and straightforward. Some aren't. Some will leave you scratching your head. For some of those comes Lura Enterprises' Trolley System for its Lightning Strike Concrete Roller Screed. The trolley system adapts to accommodate multiple projects. It can handle bridge decks, radius pours, parapet walls, and pours with obstruction such as rebar. It features three adjustment points — one at each end and a third at the center CV joint — as it extends to cover pours as wide as 38 feet. It runs across pipes as large as 2.5 inches in diameter to easily maneuver across the jobsite.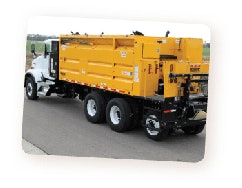 BERGKAMP
Pavement preservation continues to gather adherents, and advances in design and engineering are letting them do more than ever.
This one is Bergkamp's M212 truck-mounted slurry seal and microsurfacing paver carry 12 cubic yards of aggregate in a level struck load, 691 gallons of asphalt emulsion and 691 gallons of water and features a 65-gallon stainless steel additive tank. The pugmill, conveyor and all-liquid material tanks are removable for easy cleaning. All tanks are bolted in rather than welded and the asphalt emulsion and water tanks are separate, eliminating rust-through and contamination risks.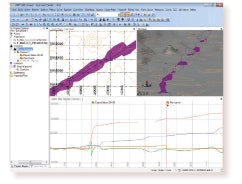 TRIMBLE
It could easily be the year of the drone. But, news headlines aside, here's something else spectacular a drone can do. Trimble has acquired privately held Gatewing of Gent, Belgium, a provider of lightweight unmanned aerial vehicles (UAV) for photogrammetry and rapid terrain mapping applications. UAVs provide users the ability to create orthophotos and Digital Surface Models (DSM) from aerial imagery for mid-sized areas previously only accessible at higher costs and with longer planning cycles. UAVs are used in a variety of applications including preliminary surveys for corridors and rights-of-way, volumetric surveys, high-level topographic surveys, and landfill inspection.
MUNCIE
Every so often you find yourself taking a second glance and saying, "Oh, that's cool." This one is cool. The Advantage + System from Muncie Power Products has a flow-sharing design for simultaneous equipment operation even at low pump flows. Its touch-screen display is high contrast, high resolution and multi-color. The system is useable with gear or piston pumps, has built-in pre-wet and anti-icing controls, built-in GPS, WiFi and interface and displays for road-air temperature sensors. It also features menu-adjusted pressure controls and digital pressure displays as well as operational data-logging and diagnostic data-logging. There are no wire harnesses between the cab controls and the valves.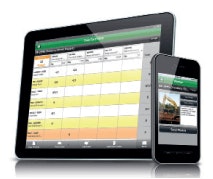 HCSS
I can't remember the last time we saw a construction site where iPads and iPhones (or some non-Apple smart phones and tablets) weren't everywhere and constantly in use. They make a huge difference and keep offering us new ways to use them. The suite of new mobile applications from HCSS for collecting and reviewing data on construction field operations can be run anywhere using iPhones, iPads and Android-based phones and tablets. Contractors can record an entire time card including diaries, photographs and cost-coded employee and equipment hours, as well as production quantities. These apps integrate with HCSS's back-end databases, which allow them to integrate with more than 40 accounting systems.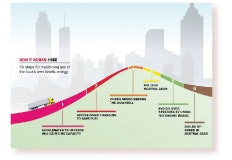 VOLVO
We think you'll see more and more engineers finding ways to use energy that is otherwise lost in a machine's operation. If Formula One cars can use it, why not a big truck. Volvo Construction Equipment's I-See system harnesses the truck's own kinetic energy to "push" the vehicle up hills, which cuts fuel consumption up to 5 percent, says the company. On downhill gradients the same energy is used for acceleration. I-See is linked to the transmission's tilt sensor and obtains information about the topography digitally.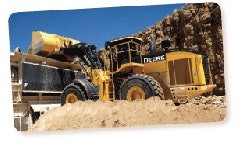 DEERE
You want a workhorse to work. Wheel loaders are perhaps the industry's most basic workhorse, and this one has that "Built to work. Period." feel that owners and operators love about their yellow iron. John Deere's 7-yard class 844K Series II wheel loader introduced at the World of Concrete 2012 features new axles, improved stability and a 6-percent boost to full-turn tip-load capacity. Other improvements include ROPS certification and low-profile tires. The higher-capacity axles have standard temperature monitoring and automatic cooling and filtration. Hy-Gard oil allows change intervals to extend to 2,000 hours. The 844K II comes with four traction-boosting axle-differential configurations, including two with on-the-fly differential lock engagement. Front and rear axle hydraulically actuated differential lock with on-the-fly engagement provides maximum traction control for tough conditions, such as working on virgin aggregate banks. Auto differential lock applies when the wheels spin and the operator doesn't apply the differential lock. Conventional differential lock is a good match for standard loadout applications.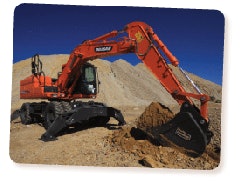 DOOSAN
Maybe we're just suckers for wheeled excavators, but Doosan's DX140W fits very nicely into this year's Top Rollouts. It is now powered by a 135-horsepower, turbocharged, 6-cylinder DL06KB water-cooled diesel. The 359-cubic-inch engine is Tier 4 Interim certified and features a high-pressure common rail design with direct fuel injection, electronic control and four valves per cylinder. The machine features an Electronic Power Optimizing System (EPOS) with four work modes — digging, breaker, shear and the new lifting mode. A new Power Plus mode provides improved performance and faster workgroup speeds for heavy-duty work. Outriggers can be controlled individually for stability on uneven surfaces. The front axle oscillates to aid maneuverability but can be locked for better digger and lifting performance.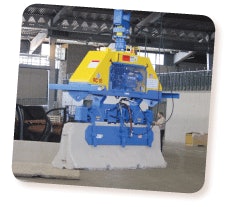 VACUWORX
It's always interesting to see (a) engineers taking on a job that's always going to be awkward — such as handling concrete barriers, and (b) finding a way to use their own technology to do it. Vacuworx has now come up with a vacuum lifter specifically designed for working with these difficult-to-maneuver hunks of concrete. The company claims that safety and productivity are improved using their product and install time and ground personnel can be cut by more than half. The lifter is designed for use with a large variety of host equipment and is can to be used on-road or in confined spaces with mobility restrictions.