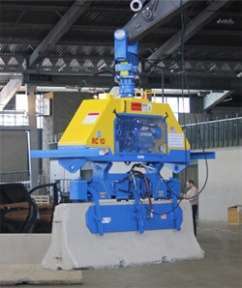 One of the key aspects that has always separated Vacuworx Global from other manufacturers in the lifting industry is the close relationship that we share with all members of the various market segments that make up the industry – from owners, to the people on the ground at the project. Customers have grown accustomed to working directly with Vacuworx team members in helping to both identify and develop the next new product or major innovation.
They have grown to trust us, because they have learned that when they ask us something – we listen and then we do something about it.
For the past few years, demand in the market for a vacuum based lifter designed for handling and placing concrete traffic barriers has continued to grow. The need for the same level of capability realized in all other Vacuworx lifters has been a constant – and we have heard you – we have heard you loud and clear. And so now for the first time ever you can enjoy all of the same benefits that you have always experienced from all of our other heavy duty lifting products – in a lifter specifically designed for working with these difficult to maneuver barriers. Both on site and in the yard handling and placement have just become a non-issue. You can now realize the same levels of increased safety and productivity by cutting both your overall install time and ground personnel by more than half.
The lifter is designed for use with a large variety of host equipment and is intended to be used in confined spaces with mobility restrictions. Off loading and installation is extremely fast meaning that your turn around time and ground personnel are reduced significantly – and both personnel and equipment have a dramatically reduced amount of time of exposure.
The lifter can work effectively with all sizes of barriers and has a four to one safe working load capacity of 7500 lbs. The lifter is completely self contained with an integrated diesel engine and operates with a matched tolerance gearing system that permits optimum operation for both the engine and vacuum pump helping to create maximum continuous output and longer run life.
When you put all of this together – you can see pretty quickly that just like the rest of the Vacuworx Lifting systems, the math gets pretty simple real fast – no wonder Vacuworx vacuum based technology heavy-duty lifting equipment continues to be the preferred choice around the world.
For a demonstration or to arrange to see and work with the new Concrete Barrier Lifter contact us at www.vacuworx.com or call us at 1-866-664-3450