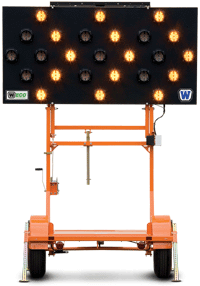 Wanco Inc. has released its new generation of WECO Arrowboards, the environmentally friendly version of its popular Traffic Director Arrowboards. The new W/ECO Arrowboards employ a unique power system that uses fewer and smaller batteries without sacrificing performance.
The product line's "green" quality is based in part on its batteries, which contain 80 percent less lead, when compared to traditional arrowboards, and which are fully sealed so they will not leak or spill. No maintenance is required, resulting in longer battery life. With a decrease in power consumption, the batteries take less time charge (five to six hours instead of 24), which not only saves energy but also results in less downtime.
During the manufacturing process, all Wanco products are powder coated rather than painted. Powder coating emits near-zero volatile organic compounds (VOCs), and all over-spray powder is reclaimed and reused. Finally, nearly every W/ECO Arrowboard component can be recycled once its useful life is reached.
"We are excited to offer an even more energy efficient arrow board," said Michael Wanasz, owner and president of Wanco Inc. "Our engineers worked diligently to lower the power consumption further, allowing us to use just two small sealed batteries that are integrated into the frame, reducing the potential for theft. Our structural frame also lowers the center of gravity, making this unit extremely stable in windy conditions. Their achievement is a reflection of Wanco's commitment to continually improving our products while limiting our effect on the environment."
For more information about Wanco and its products, visit www.wanco.com. To request information, email info@wanco.com.