Compiled by Tina Grady Barbaccia
EDITOR'S PICK
Kentucky Transportation Center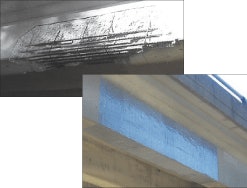 Lower bridge repair costs
The Kentucky Transportation Center has developed CatStrong CRP-X, carbon fiber reinforced polymer rod panels that are bonded to existing reinforced and deficient pre-stressed concrete bridge structural members to increase their capacity. Production uses small-diameter carbon fiber rods set on a fiberglass mesh to form a sheet ranging from CRP-70 to CRP-195. A CatStrong CRP-80 panel can resist more than 80,000 pounds of tensile force per 1-foot-wide section and weighs only 2.9 ounces per square foot, according to its maker. That square foot provides a strength equivalent to a square foot of A36 steel that is 0.12 inches thick and weighs 4.85 pounds. Visit www.betterroads.com/info.

EDITOR'S PICK
VSS Macropaver
Nonstop, seamless slurry transfer
The VSS Macropaver Slurry Transfer Vehicle (STV) can be run continuously without creating seams, and works with any brand of truck-mounted slurry machine. It can load aggregate at 8 tons-per-minute and both water and emulsion at 200 gallons-per-minute, and the STV allows the paver to work uninterrupted while applying slurry or microsurfacing. Emulsion and water are fed into the STV via a hose from the conveyor-equipped nurse unit tank using separate hydraulically driven 3-inch self-priming centrifugal pumps. The STV also can be used as a loader on stockpile sites or on jobsites, eliminating the need for a front end loader, emulsion and water storage tankers. For a video from the APWA 2012 show go to http://tinyurl.com/VSS-Macropaver.
Visit www.betterroads.com/info

Bergkamp
Flameless Pothole Patcher gets InPave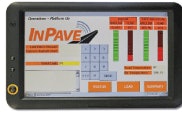 At the APWA 2012 Show Bergkamp rolled out its InPave System as an option on its Flameless Pothole Patcher to better monitor and manage pothole patching performance. (For a video of the InPave System, go to http://youtu.be/V31Q__0q-Gg.) Multiple data reporting sensors are strategically placed on the patcher that monitor production, performance and the locations of the patcher and crew. As potholes are repaired, the data is automatically gathered by the InPave System and transmitted back to the office. Data includes quantity of potholes repaired; location, time and material used for each repair; and material levels and temperatures. Visit www.betterroads.com/info.
Doosan
Portable air compressor safety videos
Doosan Portable Power has produced two new videos that highlight basic operations and an important daily checklist for portable air compressors. The checklist video highlights proper personal protective equipment (PPE) for operators, and illustrates several important pre-operational checks — including filters, fluids, fuel and oil levels, etc. — that should be completed every day before operation. For the video, go to
http://www.youtube.com/watch?v=_frKxa_gOa4&feature=plcp
Visit www.betterroads.com/info.
Deere
Operator friendly artic
John Deere's 460E articulated truck is the largest of Deere's E Series ADTs. The 46-ton 460E features a Deere PowerTech 13.5L IT4 engine with 481 net horsepower. A purpose-built ZF transmission includes a high-capacity retarder, eight forward and four reverse gears. New axles include on-the-fly differential locks and outboard planetaries, and each axle is independently pressure lubed and filtered. The axles use internal wet disc brakes with independent cooling circuits. When ground conditions get soft and difficult, the system canl automatically control the axle differential locks as well as the inter-axle differential lock, all while the truck is still moving. A newly designed stay-tight oscillation joint, high-suspension travel on all axles, and balanced weight distribution provide agility. An onboard weighing system allows operators to view the weight and the number of loads carried.
Visit www.betterroads.com/info.
Doosan
Reman program for air compressors
The ProCyon from Altus Positioning Systems integrates the Psion WORKABOUT PRO handheld computer with Altus' APS-3 RTK GNSS receiver for a powerful GIS data-acquisition platform. The ProCyon system delivers 1-centimeter RTK accuracy using an external antenna, integrated camera and quad-band GSM modem. Hardware expansion slots make the addition of new modules fast and easy, as well as a range of available add-ons, including fingerprint scanners and the largest selection of RFID readers on any handheld device. The ProCyon Windows Mobile operating system accommodates ESRI ArcPad and ArcGIS applications. Both programs utilize NMEA messages that are standard outputs from the integrated GNSS receiver in the ProCyon.
Visit www.betterroads.com/info.
Case
CGR for Tier 4 Interim regs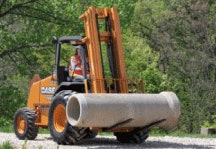 Case Construction Equipment's H-Series rough-terrain forklifts – 586H and 588H – are Tier 4 Interim certified. Both models feature Case turbocharged engines rated at 78 net horsepower. They have optional four-wheel drive, standard differential lock, 60 degrees of mast tilt, optional load control and travel speeds up to 24 mph. Both models feature a narrow, zero-tail swing design. With a standard 15-foot mast, the 586H has a minimum operating weight of 13,228 pounds, lift capacity of 6,000 pounds, and lift speed of 107 feet per minute. The 588H features a minimum operating weight of 15,639 pounds, lift capacity of 8,000 pounds, and lift speed of 106 feet per minute. Both models are available with 22-foot masts.
Visit www.betterroads.com/info.

Jetpatcher
Pothole repair in four steps
Jetpatcher Road Repair Machines range from 2.5 to 10 cubic yards of hopper capacity, with emulsion tanks to suit. They use a four-stage process for asphalt repairs. Stage 1 uses a high-volume, low-pressure blower to clear loose debris from the pothole. In Stage 2, the Jetpatcher coats the pothole with an asphalt emulsion that seals the hole and prevents further moisture damage. Stage 3 mixes aggregate with the asphalt emulsion, which is then blown into the hole. In Stage 4 a light layer of dry aggregate is applied to the patch, preventing it from sticking to tires before the emulsion is fully cured. The patch is now ready for traffic. For a video of the Jetpatcher, go to http://tinyurl.com/Jetpatcher-video.
Visit www.betterroads.com/info.
J.W. Speaker
Heavy-duty LED worklights
J.W. Speaker's XL line of new LED lights was developed for extreme industrial conditions. Each lamp is fully sealed and complies with IP69K and the distinctive, bright yellow die-cast housing and fully sealed connections protect the lights in applications where water, mud, and sludge are present. The manufacturer offers a four-year warranty.
Visit www.betterroads.com/info.
Griffin Dewatering
Efficient pump in intermittent flow conditions
The Griffin Dewatering Electric Wellpoint Pump Model 6WPRE is a fully automatic, dry priming and dry running, self contained, portable dewatering pump, which is capable of handling large volumes of air and water. It operates efficiently under intermittent flow conditions and automatically primes and reprimes at suction lifts of 25 feet or more. Capable of pumping 1,500 gallons-per-minute, the pump has more than 140 feet of head capacity. According to the maker, the pump is quiet and environmentally friendly. Visit www.betterroads.com/info

Esri
Edit geodatabases through AutoCAD
The latest release of ArcGIS for AutoCAD, Esri's free AutoCAD plug-in, improves the ability to exchange data and information between the ArcGIS and AutoCAD platforms. ArcGIS for AutoCAD users with read/write access to ArcGIS for Server feature services can now edit geodatabases through AutoCAD. This enables easier data dissemination between CAD and GIS users across the enterprise, reduces the duplication of work, and increases efficiency. The free downloadable application lets users add, create, and edit GIS data within AutoCAD drawings. For example, users can add maps and map services from enterprise or cloud servers, such as ArcGIS Online, to their drawings. Visit www.betterroads.com/info
LiuGong
10-percent reduction in fuel consumption
LiuGong says its new 915D excavator boosts work efficiency by 10 percent while reducing fuel consumption by 10 percent compared to its predecessor. The unit's smart engineering starts with its Computer Aided Power Control System (CAPC), which LiuGong says automatically and continuously matches hydraulic output to ever-changing workloads, delivering the right amount of power for each load while metering the precise amount of fuel. When extra breakout force is needed, the operator can activate the automatic power boost to provide a 10-second power boost of up to 10 percent additional force. The machine's straight-travel function automatically holds the machine in a true line while moving forward. Visit www.betterroads.com/info.
Ditch Witch
3-speed, shift-on-the-fly ground drive
The RT80 Quad heavy-duty ride-on trencher from Ditch Witch has a heavy-duty track system that the company says provides outstanding traction and performance on rough and uneven terrain. The 83-horsepower RT80 Quad features a three-speed, shift-on-the-fly ground drive that works with the machine's traversing vibratory plow, trencher, saw, and backhoe attachments. The trencher's axle capacity has a best-in-class static load rating of 39,000 pounds and best-in-class 35,215 pounds of breakout for plowing applications. Visit www.betterroads.com/info.
Komatsu america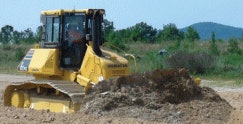 Dozers Tier 4 Interim ready
Komatsu America's line of D61-23 crawler dozers used the company's D51-22 as a design starting point, but refined the dozer design to meet EPA Tier 4 Interim regulations bundled in a larger 130- to 160-horsepower package. New longer track-on-ground standard (EX) and low ground pressure (PX) models are available. Operating weight ranges from 39,099 to 41,138 pounds, depending on the configuration. The new models push with a net 168 horsepower at 2,200 rpm. A full guarding package, hydraulic winch and other attachments are available for customization. Visit www.betterroads.com/info.
Hyundai
Versatile, lightweight and fast
Hyundai Construction Equipment America says its HL730-9 wheel loader is the smallest, lightest and most nimble of its new 9-Series, boasting a 9.2-second cycle time. The machine is powered by a Cummins Tier-III QSB4.5 engine with three modes. The loader is equipped with long-life hydraulic filters with 1,000-hour service intervals and uses Hyundai certified hydraulic oil said to last up to 5,000 hours before changing. The company's Hi-Mate remote management system provides operators and service personnel access to vital service and diagnostic information via an online portal. Visit www.betterroads.com/info.
MicroForce

Flagger-friendly, straightforward
The MicroForce DC Traffic Controller is designed to be a flagger-friendly controller with straightforward programing. For easy deployment the operator only needs to input the length and speed of the work zone. With the ability to tow in tandem and multi-trailer/multi-mode/ multi-phase expansibility, vehicle detection, preemption capabilities and 12 or 24 VDC operation, the MicroForce DC system is customizable for changing workzones. Visit www.betterroads.com/info.
Sokkia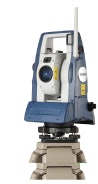 Advanced laser and image processing
Sokkia Corp.'s SX series is a compact, lightweight system with high-accuracy robotic technology that includes an advanced angle measurement system, RED-tech technology, reflectorless EDM, Bluetooth Class 1 long-range data communication, and an auto-tracking system with the RC-PR5 remote control system. Combining these features with Magnet field application software and TSshield, a telematics-based communications module with both cellular technology and GPS for positioning, the SX provides advanced laser and image processing technologies. The SX is cable-free and the fully-integrated unit delivers a 1,000-foot working radius through Bluetooth technology. All data is instantly available at the controller. Visit www.betterroads.com/info.
Phillips
Protective seal stops corrosion
Phillips Industries' Weather-Tite PermaPlug has a thick, rubberized protective seal to keep out the elements and corrosion-causing chemicals. Connectors with the new seal will keep contaminants from damaging the electrical system. Blue nitrile sealing rings stop magnesium chloride and other debris from entering the socket. The PermaPlug's wiper seals are field replaceable, and it is able to mate with any SAE approved seven-way conductor socket. The connector rear is sealed with compression clamp and TPR sleeve for corrosion protection. The cable guard is ratchet locked, preventing vibration from loosening guard. Other features include an ABS bumper for the connector and 26-gauge brass insert pins with stainless steel compression springs. It comes standard with dielectric grease. Visit www.betterroads.com/info.
Topcon
Professional-grade robotics
The PS Series, a professional-grade robotic total station from Topcon Positioning Systems (TPS), uses the company's PowerTrac technology to increase the prism tracking power. The system uses optics, laser system and advanced algorithms, to track a moving prism. It employs a phase shift EDM that has a smaller beam width than other reflectorless instruments in its class, according to Topcon. The algorithm that's used reduces the noise associated with reflectorless measurements providing an accurate result to most surfaces over longer distances up to a 3,280-foot non-prism range. The smaller beam width allows measurements in tough situations such as through a chain link fence to a building or other critical surface. The PS series has an advanced security and maintenance system and an integrated remote system. Visit www.betterroads.com/info.
Vanair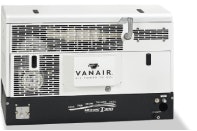 Six forms of power, one unit
Vanair says its Air N Arc I300 is the first system in the world to offer six forms of power in a single 48-inch unit. It provides an integrated 40 cfm rotary screw compressor, 7-kilowatt AC generator, 300-amp welder, battery booster and battery charger, and the power of a 10.5-gpm hydraulic pump but driven by a single engine. It will provide full functionality with the truck engine off, and fits behind the cab or on the vehicle side pack. A separate welder, compressor or generator is not necessary. The system ties directly into the vehicle's electrical system allowing the truck's battery to be charged and shares the diesel fuel source. Visit www.betterroads.com/info.
Icon
Cuts through compacted soils, heavy vegetation
Building on the tandem disc harrow technology from its parent company, Landoll Corp., Icon, has introduced a new Model 6510 Construction Disc. The disc 6510 boasts 719 weight-per-blade to cut through compacted soils and heavy vegetation mats. A ridged 8-by-8-by-¼-inch and 8-by-6-by-½-inch box-beam frame offers enough under-frame clearance to prevent trash build-up or clogging. The 11,500-pound weight and 32-inch-by-10-mm notched disc blades provides up to 15 inches maximum penetration depth to cut, level and mix the soil across the full 10-foot-9-inch working width. Featuring 17-½-inch blade spacing on both gangs, front blades are set on a 20-degree angle, while the rear gang features an 18-degree blade angle for a level finish. Visit www.betterroads.com/info.