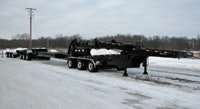 Manchester, Ia. – XL Specialized Trailers, Inc. introduces an innovative new 13-axle trailer that boasts one of the lightest weight configurations, including the Jeep and Booster, available in the industry roughly 10,000 lighter than the market norm. At 57,440 lbs, the new XL MG 170 West Coast trailer hauls loads up to 170,000 lbs distributed, including 2.5MW wind turbines, heavy construction equipment such as large dozers, excavators and wheel loaders, as well as off-road trucks for mining applications. The new XL 170 MG can also be configured to weigh 55,000 lbs to accommodate weight specific loads with some spec changes.
"As equipment continues to get bigger and heavier," says Scott Wall, CEO for XL Specialized Trailers, "the cost and logistics associated with hauling these items gets more involved. Our new trailer is able to move equipment and materials on 13 axles that would take other trailers 19 axles to accomplish, completely redefining this category of trailers. Our number one priority at XL is being the most customer focused trailer manufacturer centered on developing unique solutions for each customer's needs and we are excited about working on this unit with our customers.
The main trailer is engineered with a 118″ flip neck that extends a 14′3″main neck. From the neck, the 30′ main deck boasts a 15′ T-deck design to accommodate wind turbine components. The T-Deck can be switched out to other available deck configurations. The main deck has a 26″ loaded deck height and a 6″ ground clearance, allowing the trailer to traverse on low-maintenance surfaces to reach off-road destinations. The 21′ rear deck has a 44″ loaded deck height and is equipped with a disc brakes, with spring brakes on all axles. The main trailer has a 12V sealed grote electrical system with three LED tail-light assembly. A reinforced frame for a 3-axle booster, manual override height control, a raise/lower valve and shut offs on air bags are some of the options available for the main trailer.
The Jeep is a skelton frame with hatbox used for weight savings. This addition comes equipped with 2-speed jost landing gear and handle on road side, a 13-hp Honda unit mounted on the inside beams, the ability to raise the 5th wheel from 54″ to 72″, a hydraulic hat box with 18″ of travel, raise/lower valve, a two tail-light assembly and disc brakes with spring brakes on each axle.
The 18′5″ Booster is equipped with disc brake axles, a three tail-light assembly, a raise/lower valve, manual ride height control, as well as shut offs on each air bag.
For more information about the XL Specialized Trailers, visit https://www.xlspecializedtrailer.com/.
About XL Specialized Trailers
XL Specialized Trailers is a market leading manufacturer of heavy haul and specialized trailers for the construction, commercial, agricultural, wind energy, oil and gas, and custom style trailer markets since 1995. XL has a growing dealer network, a dedicated staff of skilled employees and is an industry leader, offering superior hauling solutions. Every XL trailer is backed with a market leading warranty to assure the ultimate in customer confidence and satisfaction.