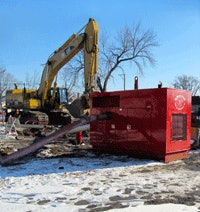 The Silent Pump Unit is a portable diesel-powered pump able to operate quietly for environments where low noise levels must be maintained. It produces only 70 decibels at 23 feet, and is well-suited for sewer bypass operations, wellpoint dewatering, and open sumping. The pump has easy-access lockable doors for regular maintenance and increased security. Silent Pump units are available in several models, depending on the type of job.
Griffin's Silent Pac Pump Units are designed to provide quiet operation where pumping is required and noise must be kept to a minimum. The Silent Pac enclosure is engineered for durability, ease of operations and maintenance. This enclosure is designed with full secondary containment. The noise level of the Silent Pac is less than 70 decibels at 23 feet. The enclosure has doors that allow for easy access to operating controls and for regular maintenance. Air vents are strategically located to provide maximum air-flow to the engine.
Silent Pac Pumps are available in a wide variety of models for multiple applications such as bypass, wellpoint dewatering systems and sumping. The Silent Pac enclosure option is available on the majority of Griffin pumps.
In applications where maximum performance with minimal noise is required, Griffin Silent Pac pumps are a proven solution. Contact Griffin for more information and options available.