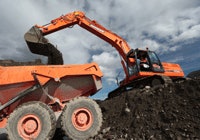 The Doosan DX300LC excavator combines performance and comfort enhancements with interim Tier 4 technologies.
The DX300LC is powered by a 213 horsepower, 6-cylinder Doosan DL08K water-cooled diesel engine that has been optimized for use with a cooled exhaust gas recirculation (CEGR) system, diesel oxidation catalyst (DOC) and diesel particulate filter (DPF). The engine in this configuration is optimized to reduce nitrogen oxides and after treatment is needed to reduce particulate matter to comply with interim Tier 4 (iT4) emission regulations. The 466-cubic-inch engine features a variable geometry turbocharger to provide optimized boost and a high pressure common rail design with direct fuel injection, electronic control and four valves per cylinder to improve fuel efficiency.
Cooling system upgrades include a split cooling system including a variable-speed hydraulic fan regulating airflow through the oil cooler. This allows the engine and oil cooling systems to be controlled independently, improving fuel efficiency and provides a quieter operator environment. The new cooling system on average has a 10 – 15 percent greater cooling capacity.
With an operating weight of 66,782 pounds, a maximum digging depth of 24 feet, dump height of 23 feet 10 inches and maximum digging reach of 35 feet 2 inches, the DX300LC is designed for road building, site development, oil and gas pipeline development and other construction applications.
Performance
Improvements in engine horsepower and torque, coupled with the six percent increase in hydraulic pressure from the hydraulic pump, translate into increased performance in various workgroup functions.
Swing torque increased by approximately seven percent, which allows the excavator to swing uphill more easily, as well as improved backfilling capabilities. This leads to decreased time per foot of trench, improving productivity. Digging force has increased approximately five percent, which allows for more power in harsh digging conditions, leading to improved cycle times and enhanced production in trenching applications.
Lifting capacity increased by approximately two percent, providing improved power out of the trench, allowing the machine to easily lift and place more material with each cycle. The boom-up speed improved by approximately three percent, which allows for more work to be completed faster, improving cycle times, reducing truck loading time resulting in more material moved per hour.
Like all Doosan excavators, the DX300LC has a standard auto idle feature, which reduces fuel consumption and noise and creates a more comfortable environment. The auto idle feature, which can be enabled at the operator's discretion, automatically reduces the engine RPM to idle if the excavator functions are not used for a period of four seconds. The engine automatically returns to the pre-set throttle position when the operator moves a joystick or a travel function.
The new intelligent boom float option allows the boom of the excavator to "float" up or down, allowing the operator to focus more on the task while decreasing the machine workload and increasing efficiency. The float mode allows the boom to move freely up and down without pump flow improving operator efficiency when finishing site cleanup. The breaker mode allows the boom to freely move down without pump flow allowing the workgroup to follow the path of the breaker through the material and is also designed to improve truck loading capability. A temporary reset button allows the operator to momentarily disengage boom float functionality, allowing pump flow to activate the boom in both directions. The operator can choose when to engage intelligent boom float functionality via a switch on the control panel.
Comfort
Doosan continues to focus on operator comfort with further enhancements to the roll-over protective structure (ROPS) cabin. Both a seat height lever and tilting function for the seat cushion were added to the seat to allow the operator to find an optimum seating position. The cabin mounting mechanism has been improved with a thickened dampening plate, and a coil spring has been added to reduce cabin vibration 20 percent, allowing operators to work longer days with less fatigue.
The door window position slider now locks in various positions, preventing it from moving from its intended location. Both front and rear glass windows are also adjustable. The door space of the cab has increased by 1.8 inches, allowing the operator to get in and out more easily. The cabin size has increased 6.1 percent, providing more headroom. The joystick angle has been reduced from 25 degrees to 19 degrees to provide a more ergonomic profile and decrease interference with operator's legs.
The DX300LC — like every new Doosan machine — is covered by an innovative 48 hour parts guarantee. The program guarantees that if a "machine-debilitating" part is needed, Doosan will deliver it directly to the end user within two business days or Doosan will pay for a replacement machine rental. The 48 Hour Parts Guarantee is subject to carrier delivery restrictions and/or governmental agency delays.
ABOUT DOOSAN INFRACORE CONSTRUCTION EQUIPMENT AMERICA
Doosan Infracore Construction Equipment America, headquartered in West Fargo, N.D., markets the Doosan brand of products which includes large excavators, wheel loaders and articulated dump trucks. With more than 100 heavy equipment dealer locations in North America, Doosan is known for an unmatched dedication to service and customer uptime, and durable, reliable products. Doosan is fast becoming a global force in heavy construction equipment. For more information on Doosan products, visit https://na.doosanequipment.com/en.