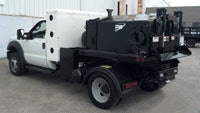 PB Corporation has introduced the B1.5 Pothole Patcher. The unit is designed to meet the needs of budget-conscious municipalities and contractors. The B-1.5 fits on a lean 19,500 lb (GVW) chassis, has a potential asphalt payload of up to 3 tons and includes many extra features typically found on much larger patchers. The B1.5 Patcher is available for Gas, Diesel, CNG (Compressed Natural Gas) and Propane fueled chassis.
According to Jason Thompson, president at PB, the company expects demand for the compact patcher to be very strong. "Public Works budgets remain tight and we believe municipalities of all sizes will be interested in this type of asphalt patcher – available in both truck mounted and trailer mounted versions. The B1.5 is the most compact patcher currently on the market."
PB initially developed the new machine at the request of the City of Arcadia, a smaller Southern Californian community. According to Thompson, "Not everyone needs a 6-yard asphalt patcher. The B1.5 offers a more practical way for our customers to own a quality patching system without having to worry about impacting their fleet or their budget."
The new B-1.5 is fully equipped like a larger patcher but its smaller size fits into tighter places, offers increased maneuverability and delivers better fuel efficiency than larger patchers. The B1.5 does "more with less" making it a smart and economical addition to any municipality or contractor faced with a shrinking budget.
PB Patchers are fully equipped so you can tackle patching jobs with just one man and one machine. PB Patchers let you repair potholes, road shoulders and utility cuts all day and provide highway and street departments with a single machine solution for year-round patching. PB Patchers are available in truck mounted, trailer mounted, hook-lift and slip-in models, with payloads from 1.5 up to 10 yards. Units typically include a self-contained emulsion spray system and are built to customer specifications. A PB Patcher can be mounted on a new or customer-owned chassis.
PB Corporation is a privately owned company that began operations in 1956 with the invention of the pothole patcher and emulsion system for use in asphalt patching. Today the company offers a full line of Asphalt Patchers, Truck Mounted Loaders, Emulsion Sprayers and Dump Bodies. PB distributes its products through a network of dealers in the United States and throughout the world.
For more information, contact PB Corporation, 5778 W. Barstow Ave., Fresno, CA 93722. 800-350-8521. www.pblcorp.com