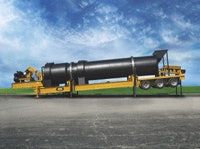 Asphalt Drum Mixers Inc. introduces its Excalibur Series asphalt plants with single-drum counterflow technology. The new plants offer high efficiency and a compact design for contractors with low to medium production needs.
The Excalibur Series asphalt plants produce 100 to 425 tons per hour at a very low cost per ton. They boast the longest aggregate drying and mixing times in the industry, and are capable of processing high percentages of RAP.
Using counterflow technology, the Excalibur Series has separate drying and mixing zones to achieve the maximum level of heat transfer and fuel efficiency. Furthermore, this system virtually eliminates unsafe hydrocarbon emissions, which are a common problem with other drum mix plants. To make the plants even more environmentally friendly, ADM designed the system to reintroduce residual gases back to the drum's combustion zone.
Also, the plants are available in portable or stationary versions. They meet all federal and state specifications and consistently produce quality asphalt to help protect operators against out-of-spec damages.
Plant controls are sophisticated in their abilities, yet simple in operation. The Excalibur Series can be operated by just one plant operator and one loader operator. Additionally, the plants are built with durability and low maintenance in mind, so on-site staff is able to handle most breakdown issues.
A wide range of components further customizes each plant for particular customer needs. Available individual components include cold feed bins, hot oil asphalt cement tanks (both horizontal and vertical), direct-fired horizontal cement tanks, portable and stationary bag houses, mineral filler systems, RAP systems, self-erect and stationary silos, weigh and drag conveyors, weigh batchers and fuel oil tanks.
In addition to the Excalibur Series, ADM also offers its MileMaker, RoadBuilder and SPL Series. Each ADM plant can be custom designed to meet the requirements of individual sites, essentially building each client's business based upon the components and plant size needed.
A family-owned company since 1974, Asphalt Drum Mixers, Inc. offers asphalt plants, auxiliary equipment, parts and service. For more information, contact ADM, 1 ADM Parkway, Huntertown, IN 46748, call 260-637-5729, fax 260- 637-3164, e-mail sales@admasphaltplants.com or go to www.admasphaltplants.com.