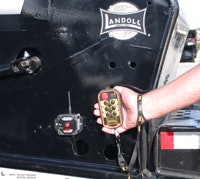 Landoll Corporation is pleased to announce an upgrade to the popular optional Wireless Remote Control that is available on all Landoll Traveling Axle and Traveling Tail trailers. Landoll and Kar-Tech engineers have developed an all new "Handheld Transmitter" for the MACRO series radios. The new remote features a shock-resistant rubber case to protect the handheld from accidental damage.
The transmitter comes in a sealed waterproof case with a working distance of up to 300 feet in all weather conditions. The system has also been upgraded to rechargeable Lithium ion batteries operating up to 35 hours of continuous run time. The batteries fully recharge in 3 hours with a standard micro USB charger which is supplied with the option. Effective on July 1, 2012, all Landoll traveling axle and Traveling Tail trailers ordered with optional wireless remote control will have the new MACRO series with the handheld upgrade.
If ordering a replacement handheld for a current system, the new MACRO series "handheld" is interchangeable with the old-style Kar-Tech remote control. For more information contact your local Landoll dealer or call the factory at 800-428-5655.