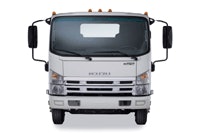 Anaheim, CA —Isuzu Commercial Truck of America, Inc. (ICTA), distributor of America's best-selling low-cab-forward trucks, announced today a new process that will enable Isuzu dealers to more quickly convert or modify gasoline-powered NPR-HD (14,500-lb. GVWR) trucks for their customers.
When placing orders for new trucks, Isuzu dealers can select a ship-thru option to indicate that they have arranged to have the trucks modified at one of two independent modification centers near the trucks' Charlotte, Michigan assembly plant. Following the modification, the center will return the trucks to ICTA, which will then transport them to the dealers that ordered the units. This new process will eliminate unnecessary dealer-incurred transportation expenses and will shorten the amount of time necessary to obtain alternative fuel conversions and certain other types of other modifications.
ICTA made the announcement at the Alternative Clean Transportation Expo in Long Beach, California.
Utilimaster, Inc., offers CNG/LPG alternative fuel conversions and other modifications for Isuzu trucks to dealers and customers at a modification facility located on the Spartan Motors, Inc., campus in Charlotte, Michigan. IMPCO Technologies, Inc., offers CNG alternative fuel conversions at the IMPCO modification facility in Union City, Indiana.
"This ship-thru option simplifies the movement of a completed truck from the Charlotte port to a near-plant modification center and finally back into the Isuzu logistics flow." said Shaun Skinner, executive vice president and general manager of Isuzu Commercial Truck of America. "This can provide substantial cost savings for our dealers that require truck modifications not offered by Isuzu."
About Isuzu
Isuzu Motors Limited is one of the world's largest manufacturers of medium- and heavy-duty trucks. Since building its first truck in 1918, Isuzu has sold over 26 million trucks worldwide. Among its innovations are the first air-cooled diesel engine in 1936, the first two-ton low-cab-forward truck in 1959, and the first direct-injection diesel engine.
Headquartered in Anaheim, California, Isuzu Commercial Truck of America, Inc., is the distributor of Isuzu commercial vehicles in the United States. Isuzu commercial trucks have been the best-selling low-cab-forward trucks in America every year since 1986. For more information, call (866) 441-9638 or visit www.isuzucv.com.
About Spartan Motors
Spartan Motors, Inc. (NASDAQ: SPAR; www.spartanmotors.com), designs, engineers and manufactures specialty chassis, specialty vehicles and truck bodies and aftermarket parts for the RV, emergency-rescue, defense, delivery and service markets. The company's brand names—SpartanTM, Crimson FireTM, Crimson Fire AerialsTM, Road RescueTM and Utilimaster®—are known for quality, value, service and being the first to market with innovative products. The company employs approximately 1,600 people at facilities in Michigan, Pennsylvania, South Carolina, South Dakota, Indiana and Texas. Spartan reported sales of $430 million in 2009 and is focused on becoming a global leader in the manufacture of specialty vehicles and chassis.
About IMPCO Automotive
IMPCO Technologies is a global leader in the heavy duty, industrial, power generation and stationary engines sectors. IMPCO's components and systems control the pressure and flow of gaseous alternative fuels, such as propane and natural gas, used in internal combustion engines. These components and systems feature the Company's advanced fuel system technologies, which improve efficiency, enhance power output and reduce emissions by electronically sensing and regulating the proper proportion of fuel and air required by the internal combustion engine. In addition to the components and systems, the Company provides engineering and systems integration services to address unique customer requirements for performance, durability and configuration.