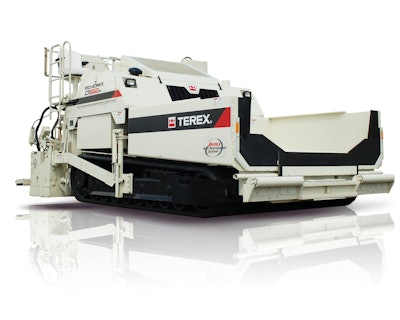 The new Terex CR662RM RoadMix material transfer vehicle and paver meets Tier 4i (Stage III B) emissions standards. Offering the same 260 hp output as the previous model, the machine's new power unit is 5 percent more fuel efficient to extend operating intervals between tank refills, according to Terex.
The engine features a cooled Exhaust Gas Recirculation (EGR) system with Diesel Oxidation Catalyst (DOC) and Diesel Particulate Filter (DPF) to substantially reduce emissions. Regeneration of the DPF occurs automatically without affecting machine performance. A new cooling system arrangement features larger radiator core size and improved airflow to increase ambient operating temperatures to 120° Fahrenheit (48.9° Celsius).
To offset increased space requirements of the Tier 4i engine components, Terex engineers developed a new low-profile hood design that slopes downward away from the operator to improve working visibility of the hopper. The radiator is integrated into the hood design, so the cleanest air possible is drawn for cooling engine components, so the machine runs cooler. Components from the paver's fume recovery system have been moved from underneath the operator's platform to under the hood, lowering operating noise levels and improving operator comfort.