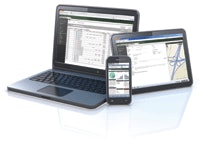 Spectrum Version 14 from Dexter + Chaney is a complete technology breakthrough.
Today's construction software is difficult to use, complex to set up, and expensive to maintain.The New Spectrum Version 14 changes all of that. Spectrum is 100 percent web-based, meaning that all you need is a browser and Internet connection to access your company information. So Spectrum will run on a Windows PC, an Apple iMac, any laptop, an iPad, even your smartphone can run Spectrum. While the server can live in your office or be hosted at a data center, the choice is yours. Dexter + Chaney will even host it for you so you need never worry about software updates or hardware requirements.
Easy to Use
"We've tripled in size but haven't added any staff because Spectrum is so efficient" – Annette Ogden, Anderson Electric
Spectrum's offers an entirely new user experience, it's different from any construction software you've seen. And compared to what you might use today, it's light-years ahead. Rich Kosleika, Spectrum user and owner of Standard Heating and Air Conditioning in Omaha, Neb., calls it "futuristic". And he's right. Gone are confusing menu systems with dozens of choices where critical information is buried behind unfamiliar terminology. Navigation is intuitive and information is context-driven (we need a good way to say "context-driven").
Information Now
"Spectrum helps us see things sooner so we can address them before they become a huge problem." – Jim Savage, Gaylor Inc.
We believe the only way to stay on top of a construction business is with solid information that you can trust. Spectrum delivers your company information faster and easier than other software. Put your hands on just the information you need wherever you need it. No matter where you go or what device you use, you will be able to access the information you need. Jobsite, airport, office, or home – pick the location and you will be able to access your information on any device that runs a browser and connects to the Internet.
Customers For Life
"Dexter + Chaney listens to their customers. You're not just some number in a big corporate world where they don't care what you think." – Vickey Geffert, Controller, Alterman Electric
You deserve a software partner that will listen, help solve your problems, and keep your software up-to-date. For 30 years we have partnered with our construction clients to deliver exactly that. At Dexter + Chaney, we believe in putting customers first.
Lower Cost of Ownership
"We've tripled in size but haven't added any staff because Spectrum is so efficient" – Annette Ogden, Anderson Electric
How well does your software company deliver new technology? Do you pay annual maintenance on existing products that taper off just in time for a "new" version that you have to buy? And if you do spend all that extra money, do you have to manually re-enter data while much of your valuable company history is lost?
30 years ago our first client was a small contractor that began using our software on the Unix operating system. Over time they grew and moved up to our Windows version and later upgraded to Microsoft SQL Server with our Version 12. Today they have over 100 concurrent users on Spectrum. In all that time and across all those technology changes they have never had to repurchase their software. And all their valuable company data transferred electronically from one version to the next. They never lost valuable history and they never had to manually re-enter data.