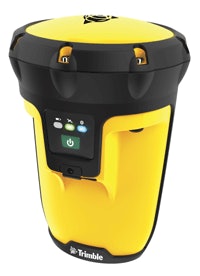 SUNNYVALE, Calif., —Trimble (NASDAQ: TRMB) introduced today the next generation of its Trimble® GPS Pathfinder® family—the Trimble Pro 6H and Pro 6T receivers for GIS and mobile mapping. The Trimble Pro series with advanced features allows mobile workers to configure a solution for a wide range of applications, delivering unparalleled flexibility in professional GIS data collection. The series offers a new streamlined form-factor and dramatic productivity improvements in difficult GNSS environments with Trimble Floodlight™ technology.
The modular Trimble Pro series receiver gives users the flexibility to choose their setup configurations:
•Optimized for use with Trimble data collection devices such as the Trimble Juno® or Nomad® G series handhelds, or Yuma® tablet computer, the Trimble Pro series can also be used with other tablets and handhelds with NMEA output
•Real-time or postprocessed GIS workflows
•The receiver can be deployed in a backpack, on a pole or mounted on a vehicle
• Two models are available—the Trimble Pro 6H delivers decimeter accuracy, while the Pro 6T is the submeter model for standard GIS applications
"With the availability of the new Pro series receivers, data collection professionals now have access to the productivity-enhancements of Floodlight technology in both integrated and modular configurations," said Daniel Wallace, general manager of Trimble's GIS Data Collection Division. "While some prefer the convenience of an integrated, all-in-one handheld, others will appreciate the Pro series' flexibility to choose from a range of data collection devices such as a high-resolution tablet or lightweight Trimble Juno."
Improved Performance in Tough GNSS Environments with Trimble Floodlight Technology
For maximum productivity in high-accuracy applications, Trimble Floodlight technology allows users to collect decimeter accuracy data in the toughest GNSS environments. Buildings and trees can cause satellite shadow and limit the environments where high-accuracy GNSS data collection can be performed. Unique to Trimble, Floodlight technology combines a range of innovative techniques to increase the availability of positions and boost accuracy in areas affected by satellite shadow. Using Floodlight technology, the Pro series can keep teams productive without compromising on accuracy. Users can work with fewer disruptions and ensure better data, faster data collection and higher field efficiency.
Built for Intensive Data Collection Campaigns
Trimble Pro series receivers are rugged and built to withstand the rigors of long hours in tough outdoor conditions, yet optimized for high-accuracy GIS data collection workflows. For applications such as utilities inspections and timber stand valuations, Trimble Pro receivers provide long battery life and tough construction for dependable service over the course of rigorous data collection projects.
With its IP65 rating, the receivers offer reliable operation, even after prolonged exposure to water and dust. An integrated antenna reduces the complexity of the system for fast setup and swift data collection campaigns. Field workers can be up and running with minimal training, saving time and money. Combined with a Trimble handheld solution and Trimble TerraSync™ software, the complete system provides dedicated field workflows to simplify data collection and improve integration with the GIS for total workflow improvements.
Availability
The new Trimble Pro 6H and 6T receivers are available now from Trimble's worldwide Mapping & GIS authorized distribution channel. For more information, visit: www.trimble.com/pro.