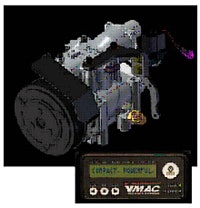 NANAIMO, B.C. – VMAC is excited to introduce the UNDERHOOD70-G Air Compressor, a vehicle-mounted air compressor system that improves fuel economy, decreases engine operating hours, lowers truck emissions, reduces noise levels and cuts life cycle costs.
Featuring VMAC's state-of-the-art Intelligent Digital Controls, this advanced air compressor system is smart enough to turn the truck off when air is not being used and then turn the truck back on when air is needed again! VMAC expects the advancements this control system represents to bring about an evolution in the mobile air compressor market and to contribute to VMAC's growing environmentally-friendly product line.
VMAC worked closely with customers and dealers to address truck idling, emissions, service intervals, fuel consumption, wear and tear and longevity challenges to realize this advanced system design.
Producing 70 CFM and 175 PSI, this system employs an adjustable automatic engine control and digital setup on the LCD control box display. This new UNDERHOOD70-G kit designed for the Ford 6.7L Powerstroke Diesel, and additional applications are to be announced.
Visit our website to access the brochure for this new system or for more photos or information about VMAC, VMAC RAPTAIR, VMAC UNDERHOOD and VMAC Hydraulic Air Compressor Systems and Throttles, visit http://www.vmacair.com/ or call 1-800-738-8622.