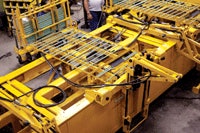 Ida Grove, Iowa — GOMACO's rear-loading, front inserting 5400 series bar inserter is now available on their 3100 and 5000 series molds with a self-supported transition adjustor. Previously, the 5400 bar inserter was only available with the 5400 series mold. The inserter mounts to a T-bar, which is bolted onto the front of the 3100 or 5000 series mold, while the bar loading chain system is supported by a stand in the rear of the mold. It can be retrofitted to any existing 3100 or 5000 series mold in the field with a self-supported transition adjustor.
The GOMACO 5400 series bar inserter is a unique insertion system that loads from the safety of the work bridge on the back of the paver and inserts the bar in front of the mold. It has a bar loading chain system that allows the bars to travel in a flat, horizontal path allowing a high degree of reliability and efficiency. With the inserter mounted to the mold, on-the-go crown changes can be made while still maintaining constant bar depth during insertion. Individual guides on the right and left side of the bar inserter keep each bar parallel to the top of the slab while smart cylinders control the depth of each bar's placement. The GOMACO exclusive G+ control system is used to control the bar insertion process and timing. The G+ monitor features a magnetic mount that allows it be placed anywhere on the side of the paver for convenient and easy monitoring of the bar insertion process.
The system can place #3 to #8 deformed bars 0.375 to one inch (10 to 25 mm) in diameter and between 20 to 40 inches (508 to 1016 mm) in length. A box for the bar bundles is mounted to the back of the paver allowing easy loading of the bundles and also easy access to load the bars into the bar magazine. One crew member can then work from the paver's work bridge loading the bar magazine on one or multiple 5400 series bar inserters.
GOMACO Corporation (www.gomaco.com) is the worldwide leader in concrete construction equipment with headquarters in Ida Grove, Iowa. GOMACO equipment will slipform concrete streets and highways, airport runways, curb and gutter, sidewalks and recreational trails, safety barrier, bridge parapet, and irrigation canals. Support equipment includes grade trimmers, concrete placers, concrete placer/spreaders, and texturing and curing machines. The company also offers equipment to finish flat slabs, bridges, and slopes. GOMACO will consult on equipment for large or unique concrete paving projects. Products are offered through a worldwide distributor network for local sales, parts, and service expertise.