Including special coverage of the American Traffic Safety Services Association (ATSSA) 42nd Annual Traffic Expo and more World of Concrete introductions
TRANSPO


Alarm can now stand alone
A sound idea for safety is now an even more versatile tool for highway construction zones. An add-on accessory for the SonoBlaster, the mobility kit allows the award-winning work zone intrusion alarm manufactured by Transpo Industries to be used independent of other on-site objects. Upon
initial introduction, the SonoBlaster system was attached to A-frames, barricades, security fences, traffic cones, barrels and drums often placed along road construction sites. The impact-activated device warns on-site crews and errant drivers simultaneously, blasting for 15 seconds a carbon dioxide-powered alarm measured at 125 decibels at a distance of 6 feet. Transpo recommends 15-25 SonoBlaster units be placed approaching and alongside any highway work zone. The SonoBlaster is a Federal Highway Administration (FHWA) NCHRP 350 Category II accepted safety device and, upon introduction, was recognized by Better Roads with a 2010 Top Rollout Award.
U-TECK


WeedEnder cuts down on a growing problem
Mowing wide open spaces is difficult enough for road agencies and maintenance contractors in this era of tightened budgets. Trimming vegetation along guardrails, cable barriers and road signs? Yeah, right! Well, U-TECK has a solution that saves environmentally as well as fiscally. The WeedEnder is a non-vegetative treatment that eliminates the use of herbicides, particularly important in eco-sensitive areas nears streams and lakes. Not to be confused with landscape fabrics, the total system is made from recycled plastic bottles, and is often called "flexible concrete" due to its rugged nature. It is available in rolls measuring 1 to 6 feet wide by 250 feet long, and comes in asphalt color, with post cut-outs and conformed to roadway contour. The manufacturer reports WeedEnder can even be repeatedly driven over by trucks without damage. When roadside repairs or changes are required below or around the WeedEnder, the material can be rolled up, removed, and later re-installed without damage, says U-TECK. With a minimum lifespan of 15 years, WeedEnder is water-permeable, thus reducing stormwater runoff and slowing erosion. It is also flame-retardant, which could reduce the threat of roadside fires, the company says.
TOPCON

Control different machines with one system
A machine control system than revolutionized jobsite equipment management is now applicable to more machine types working on road construction sites. Topcon Positioning Systems has upgraded its 3D-MC software to version 10.0 to allow wide concrete pavers, curb and gutter machines, trimmers and milling machines to be controlled via the same software used for crawler dozers, motor graders and excavators. With the newest edition of 3D-MC, a menu enhancement makes it possible to set the color of the surface in section/profile views independently of the plan view color, and enables grade transition markers on/off for both road and triangular irregular network (TIN) surfaces. Other software enhancements include info customization for all types of stakeout, visibility improvements to screen colors and fonts, quick selection of non-Topcon real-time kinematic (RTK) base stations, and upgrades to management of large topo survey data and auto-topo logging at high speed.
Pexco/Davidson

Channelizer post with 'easy spin" installation
The new DP 200 EFX "City Post" from Pexco/Davidson Traffic Control Products is a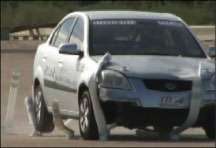 channelizer post featuring a narrow footprint and is designed for quick replacement, rapid "easy spin" installation, superior rebound and durability. With a 3-inch-round polyurethane delineator, the one-piece post has no bolts or pins, and spins into an embedded anchor cup for quick and safe installation. Available up to 48 inches tall in white, yellow, orange and black, the DP 200 meets MUTCD and NCHRP 350 requirements for channelizing devices and was tested at high speeds by the Texas Transportation Institute (TTI).
TAPCO

Pedestrian-activated RRFB systems
Pedestrian-activated RRFB systems from TAPCO feature large, 7- by 3-inch LED arrays that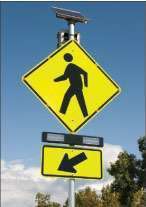 exceed Federal Highway Administration (FHWA) standards. When activated, the SAE J595-certified LED arrays flash an FHWA- specified, alternating "wig-wag" pattern. Side-mounted LED arrays flash concurrently to advise pedestrians that the units are flashing. RRFBs have produced 80- to 90-percent driver compliance in yielding to pedestrians at high-risk uncontrolled crossings, according to the company.
Western, Fisher, Blizzard
Adjustable-wing snowplows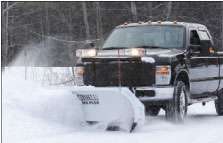 Western, Fisher and Blizzard adjustable-wing snowplows allow operators to put the snowplow into the most efficient positions needed to get the job done. In narrow areas, an adjustable-wing snowplow can be used as a compact straight blade. In large, wide-open areas, the wings can be expanded to provide a larger plowing path. When plowing with the blade angled, the leading wing can be angled inward to direct snow right to the heart of the blade, eliminating "spill off" that can occur with a normal straight blade or V-plow. Adjustable-wing snowplows can also be put into "scoop" position, with both wings angled inward, to give the operator the ability to effectively contain snow. In scoop mode, they also can fully angle right and left, to help control spill-off and reduce clean-up time.
Glasform

Fiberglass markers for highway and utility applications
Glasform's fiberglass-reinforced composite utility marker posts and highway delineators are designed to withstand multiple vehicle impacts and return to an upright position. Markers come in lengths of 62, 66 and 72 inches and come in several colors. According to Glasform, fiberglass combines a blend of strength and flexibility for easy installation and a long service life. Being a naturally rust-, rot- and corrosion-resistant material, it can withstand temperature extremes.
Dow Coating Materials

50-percent less TiO2, 30-percent less latex
Dow Coating Materials (DCM) FASTRACK HE-5030 Binder Technology traffic paints are formulated with FASTRACK HE-5030 acrylic polymer, providing equivalent levels of visibility and durability in waterborne road marking with 50-percent less TiO2 and 30-percent less latex.
Pexco/Davidson
Highly-visible targets from any angle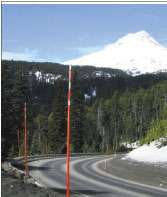 The re-engineered Snow Post Model 2549, from Pexco, part of Davidson Traffic Control Products is made out of the same engineering thermoplastic as the company's Flexi-Guide FG 400 and 500 Series roadside delineator. Snow Posts provide advance warning to plow operators of the locations of fixed objects such as guardrails, guiding the operator where to plow. Snow Posts can also be used to mark culverts and drains, locate junction boxes, support banners and signs, secure snow fencing and delineate lift lines.
SnowEx
Corrosion-resistant polyethylene hoppers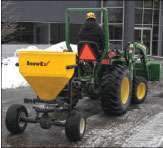 SnowEx introduces two ground-drive spreaders designed to tow behind compact tractors, ATVs and utility vehicles. The SP-725G and SP-1225G offer 7- and 12-cubic-foot capacities respectively. They feature corrosion-resistant polyethylene hoppers and 12-inch, adjustable stainless-steel spinners. The spreaders can handle bagged rock salt and ice melters. They spread up to 30 feet wide at 5 miles per hour, and are available with a deflector skirt kit for narrowing the spread width on sidewalks. The ground drive system is comprised of a heavy-duty transmission and large, narrow pneumatic tires for maximum traction on snow and ice.
Image Microsystems

Green signage from 100-percent e-waste
MicroStrate from Image Microsystems is a line of traffic safety and signage products made from 100- percent consumer e-waste (electronic equipment waste) plastic, allowing users to install what the company says is truly "green" signage. MicroStrate is durable, with one-quarter of the carbon footprint of aluminum, according to the company. The signage can be coated with high-intensity prismatic or engineering-grade reflective sheeting for stop signs. It can be printed on directly for use as a quality fine art substrate and can function as a sign core for outdoor signage.
Titan
Line striper with spray gun
Titan's Speedflo PowerLiner 850 line striper is company-recommended for light, periodic-duty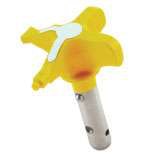 on small parking lots. Featured with the unit is the removable LX-40 spray gun with in-handle filter and reversible striping tip. Pressure rated at 3,000 psi (20.7 MPa), the LX-40 uses a tungsten carbine ball valve. The 850 has a folding handle for easy transport and storage, carries a 5-gallon paint pail (not included) with a 37.7-cc, 4-stroke engine. A reversible gun mount allows stripe off on either the front or rear tire, and the tires are made of a formulated poly for smooth riding.
Invarion Professional

Software for traffic control plans created quickly
With RapidPlan software from Invarion Professional, users can automatically import pre-drawn road layouts after searching for the work location, and plans of all types can be drawn directly onto aerial photography. RapidPlan has the capability of importing existing design files, such as DXF, DWG, SVG and other image formats, which can be imported and then fully manipulated. RapidPlan provides a full menu of manual tools to give users complete control over the appearance of their plans.
Plastic Safety Systems

Temporary rumble strip in three sections
Plastic Safety Systems offers its RoadQuake 2 temporary portable rumble strip where daily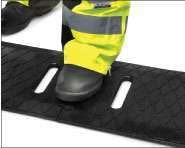 installation and removal of the workzone is required, and for posted speed limits of 65 mph or less and in all temperatures. RoadQuake 2 is 45 inches long and weighs 35 pounds with three sections making one rumble strip 11 feet long. At 13 feet wide and 3/4 inches thick, the strip generates the same level of sound and vibration as milled strips. No nails or glue are needed for installation and use, and one person can assemble section in minutes, the company says.
Epic Solutions

Paint striping material measurement
The M7 Thermal Plastic Data Logging System from Epic Solutions offers real-time paint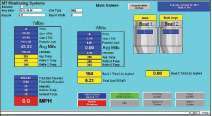 striping material measurement. Featuring a display of mil thickness, beads applied, material application, temperatures, average speed, GPS data and other information, the M7 can be installed on any brand of truck. Its patented system is the only U.S. monitoring system that measures all material usage based on weight, bringing truck data in real time to a programmable logic controller, says the company, so that the driver can maintain proper application rates and adherence to specifications.
The Boss Snowplow
New wider selection of UTV brands
The Boss Snowplow UTV Plows are now available for a wider selection of popular UTV brands. Brands newly compatible with Boss UTV plows include Bobcat, Case IH, Club Car, Honda, Husqvarna and New Holland. These UTV brands join off-road vehicle brands John Deere, Kawasaki, Kubota and Polaris for The Boss' growing UTV plow lineup. Boss UTV Plows are available in two models – a 6-foot, 6-inch Power-V XT and the 6-foot Poly Straight-Blade Snowplow. Built for the home or worksite, Boss has engineered its UTV plows to the same professional-grade standards as its full-size plows, while its smaller size allows access to hard-to-reach areas. Both UTV Plows offer Smart Technology features and high-performance hydraulic systems.
Austin

Traffic sign covers in all shapes and sizes
Austin traffic sign covers – ranging in sizes from 12 by 24 inches to 48 by 96 inches – include those for yield signs, stop signs, traffic signals and more. Made of durable vinyl with felt backs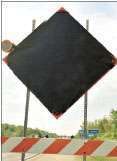 to protect sign faces, covers are reusable and "green," all-weather and easy to place or remove. Larger sign cover sizes (30-inches-plus square/rectangular) can have optional hanger tabs. The company also offers a paddle cover for portable "stop" or "slow" signs and covers for traffic signals.
Case
Excavator for heavier loads, larger buckets
Case Construction Equipment's CX470C full-sized excavator replaces the CX470B model. It features Tier 4 Interim-certified cooled exhaust gas recirculation (CEGR) technology and is rated at 362 net horsepower. Available in Long Undercarriage (LC), Retractable Undercarriage (RTC) and Mass Excavator (MEX) models with operating weights ranging from 105,300 to 108,600 pounds, the excavators are roughly 1,100 pounds heavier than the previous model for what Case says is improved capacity.
USA-Sign

Coil-flex, wind-deflectable stands for roll-up signs
Compact C-Stands from USA-Sign feature a coil-flex steel coil spring providing wind deflection and lateral stability in all conditions for roll-up signs. The C-300 Steel Series is available with a C-301 standard base, and the C-302 heavy-duty, larger base. C-800 stands are available with the C-801 standard base or C-802 heavy-Vegaduty larger base. The C-300 stands are available with a direct-drive or kick-level leg release system. C-800 stands are available with a T-pin, direct-drive or kick-level leg release system. Roll-up signs attach to both units with a spin-handle or quick-attach lever and are NCHRP-350 accepted for use with all roll-up signs.
Brokk
Compact, low-profile machine for tight areas
The Brokk 160 demolition machine introduced at World of Concrete is a powerful, lighter-weight replacement of the Brokk 180. Powered by a 25-horsepower electric motor, it's 12-percent more powerful than the Brokk 180. Reach is 15.8 feet with the included SB202 breaker. At 4.1 feet high and 2.6 feet wide, the machine is compact and low-profile enough to work in the tight, restrictive areas The remote control box also enables the operator to remain a safe distance away from hazards such as falling debris. Excluding attachments, the Brokk 160 weighs in at 3,527 pounds. Recommended maximum weight of attachments such as breakers, crushers, drills and shears is 595 pounds.
Volvo Trucks
More horsepower and efficiency

Volvo Trucks has expanded its XE13 range to include a 455-horsepower powertrain package. Volvo Trucks introduced the initial XE13 package with a 425-horsepower rating in September 2011. Through the XE13 package, Volvo lowers engine rpm at a given vehicle speed, a concept Volvo calls "downspeeding." Available on Volvo VN series tractors, the XE13 455-horsepower package is rated up to 80,000 pounds (GCWR) and includes the following components: Volvo D13 engine with 1750 foot-pounds of torque; Volvo I-Shift overdrive transmission with a 0.78:1 ratio; axle ratios of 2.64 to 2.69; and proprietary software that facilitates communication between Volvo's integrated powertrain components.
Avery Dennison

Minimum retroreflectivity kit
Avery Dennison's Minimum Retroreflectivity Compliance Kit offers officials and road sign fabricators a way to evaluate if an existing sign meets new federally- established standards for "retroreflectivity." Each kit is equipped with calibration sign and comparison panel standards, allowing easy testing of signs for compliance simply by holding the kit's comparison panel next to a sign. If the sign is as bright as the panel, the sign is in compliance, if not, it needs to be replaced. The calibration sign standards come in all required colors with retroreflectivity levels engineered to match the values specified in MUTCD Table 2A-3. It can be calibirated for nighttime sign inspections.
Tensar
Mobile app determines aggregates savings
Tensar International Corp.'s SpectraPave mobile app allows users in the field to quickly and accurately determine aggregate savings with the use of TriAx Geogrid (TX140/TX160) for subgrade stabilization projects. The SpectraPave mobile application can be accessed with Internet-connected devices on demand. The TensarConnect platform and SpectraPave mobile application can be accessed on any Java-enabled smart phone mobile device. After inputting the project metrics, the application generates an analysis summary for the project and instantly provides the user with contact information for the appropriate sales representative based on project location. A tentative project summary is created in PDF format. If site conditions change, the initial analysis can be viewed while in the field and a new analysis performed to determine the required amount of aggregate for the new conditions.
Vega

Barrier, guardrail, rail post markers
Vega Molded Products offers a variety of markers for several applications, including barriers, guardrails and rail posts. Among the barrier markers offered are the JD-1, a one-way marker, as well as a bi-directional marker, the JD-2. The units have individually-sealed lenses to prolong marker use life. Vega guardrail markers, including the GBM-1, are one-way units, with the GBM-2 available as a bi-directional marker. In addition, Vega offers: one-way (CM1) and bi-directional curb markers (CM2); flexible barrier markers (FB1 and FB2); two types of guardrail reflectors; and two rail post markers, the one-sided RPM1 and bi-directional RPM2.
Vega
Barrier, guardrail, rail post markers
Vega Molded Products offers a variety of markers for several applications, including barriers, guardrails and rail posts. Among the barrier markers offered are the JD-1, a one-way marker, as well as a bi-directional marker, the JD-2. The units have individually-sealed lenses to prolong marker use life. Vega guardrail markers, including the GBM-1, are one-way units, with the GBM-2 available as a bi-directional marker. In addition, Vega offers: one-way (CM1) and bi-directional curb markers (CM2); flexible barrier markers (FB1 and FB2); two types of guardrail reflectors; and two rail post markers, the one-sided RPM1 and bi-directional RPM2.
JCB
Longer loader arms for easier loading
JCB has upgraded its 1CX backhoe loader with a revised cab roof trim, improved working lights and sturdy electrical switchgear. The new optional loader arms are 4 inches longer to provide easier loading of site dump trucks. At the rear, an extending dipper option adds up to 20 inches to the digging envelope, taking maximum dig depth to 10 feet. A new Power Management System (PMS) improves performance, reducing engine lug down as the machine starts to dig and increasing power when driving into a pile with the front bucket.
Blastrac
Blaster strips, cleans and profiles simultaneously
The new Blastrac trouble-free hydraulic drive system seen at World of Concrete offers better productivity when cleaning and preparing concrete or steel surfaces. The 1-16DB4 shot blaster strips, cleans and profiles simultaneously. An available blast-pattern adapter reduces the blast width for very effective line stripe removal. A quieter on-board vac offers easier debris disposal with its new "twin-bag" dust collection system. The airborne dust and contaminants are efficiently contained, prohibiting their re-introduction into the surrounding environment, ready for quick removal.
Carsonite

Sound barrier absorbs sound, reduces noise
The AcoustaShield Sound Barrier System from Carsonite uses scrap rubber from tires (21,000 scrap tires for every mile constructed) as filler for tongue-and-groove boards that are engineered of fiberglass-reinforced polymer composite. It exceeds AASHTO and DOT sound wall guidelines; it is naturally fire-resistant and withstands harsh weather and corrosive elements. It is available in heights up to 28 feet and comes in virtually any color or color combination. In addition, repairs after vehicle impact can be made year-round, without large lifting equipment or concrete pouring and with minimal traffic diversion.
Sherwin-Williams
A 'claw' for quick and easy pick-up
Sherwin-Williams' Claw Delineator has a "claw" handle that allows for quick and easy placement and pick-up. It can also be used for caution tape and features two recessed areas for reflective sheeting. Rubber bases are available at 10 or 12 pounds.
New Holland
Loader backhoe now Tier 4 Interim certified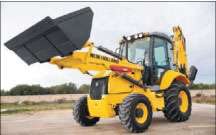 New Holland Construction's C Series loader backhoes, featuring Tier 4 Interim engines ranging from 95 to 108 net horsepower, improved engine response, fuel efficiency and serviceability, and an optional auto ride control, include the B95C, B95C TC, B95C LR and B110C models. Backhoe bucket breakout forces of 12,933 pound-feet combine with lift capacities at 12 feet of 3,940 pounds.
Flint Trading
Surface systems for enhanced safety and aesthetics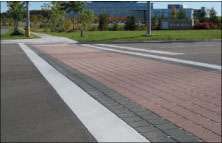 TrafficScapes from Flint Trading Inc. feature preformed thermoplastic materials engineered for safety, durability and aesthetics for streetscapes, traffic calming treatments and crosswalks while incorporating regulatory requirements. A "portfolio" of brands under the TrafficScapes umbrella include: TrafficPatterns, a maintenance-free alternative to brick and stone pavers; TrafficPatternsXD, heavy-duty stamped crosswalks and traffic calming surfaces; DuraTherm, a thermoplastic material that is inlaid into imprinted asphalt; and DecoMark, pre-cut thermoplastic horizontal surface signage, sheets that are positioned onto asphalt or concrete surfaces.
Soil2O
Turns dirt into pavement-like surface
The Soil2O's Dust Control penetrates the surfaces and leaches into the dirt profile, working overnight to pull moisture out of the air and keeping the dirt moist longer. It also works by turning the dirt into a pavement-like surface, helping keep construction sites compliant and eliminate fines.
DuoLux

Improved reflectivity on thin-layered marking
DuoLux glass beads are a blend of Weisskers Lux glass beads and UltraLux glass beads. DuoLux beads can be manufactured and blended according to customer needs, material and technical requirements. Used to gain improved reflectivity on a thin-layered road marking, the DuoLux system is water-repellent and adhesion-promoting.
Aervoe
Flameless, smokeless LED emergency road flare
Aervoe Industries offers the Super LED emergency road flare, which does not produce a flame, smoke or harmful by-products and does not require batteries. DOT- and traffic safety-compliant, the road flare features 24 LEDs, five flash patterns and is waterproof and submersible up to 50 feet deep. Visible up to a mile, it is crush-proof and corrosion-proof. It is available in three colors in a single pack or self-charging four-pack kit and includes a magnet to attach to metal surfaces. A flex-fit tripod is also available.
KPI-JCI
Be FRAP ready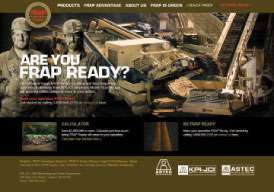 The beFRAPready.com website from KPI-JCI helps users determine whether reclaimed asphalt pavement (RAP) is right for your next project. The website's cost-savings calculator can help determine a ballpark figure on how much money using RAP and/or FRAP can save, and also offers case studies, technical papers and frequently asked questions. A dealer locator is also on the site to help users find the nearest FRAP expert.
FleetWest
Just load and go
Fleetwest Transferable Truck Bodies' new Load'N'Go Sportsman utility body replaces the company's Lowboy model. The lightweight transferable service body that is a universal fit for all major makes of pickup trucks is built rugged to work on half-ton and larger trucks, and it can be moved on and off the bed fully loaded in a matter of minutes. The Sportsman's new design features: a hinged aluminum diamond plate rear door that safely secures parts, tools and equipment in a pull-out drawer; two full-length side storage compartments over the wheels; and protective black spray-on liner. The transferable service body does not require holes to be drilled into the truck and uses a four corner tie-down clamping system.
Brokk
Digital remote-control protects workers
Brokk AB's 100 demolition machine introduced at World of Concrete features a more compact design, yet 35-percent greater breaking power. It replaces the Brokk 90 machine. A new digital remote-control box allows the operator to stay clear of any hazards on the jobsite, and monitor some of the key functions of the machine on an LCD display.
Linetech
3K laser straight line with one button
The Long Range Layout Laser from LaserLine Mfg. featuring "LineLokr" technology allows the user to snap a 3,000-foot laser straight line with the push of a button.
Brokk
The 'Monster Brokk'
The Brokk 800 demolition machine seen at World of Concrete and referred to by the company as the "Monster Brokk," is more than twice as big as Brokk's previous largest model, the Brokk 400. It's the most powerful demolition robot available in the Brokk lineup and currently on the market. The Brokk 800 is available in two versions, the 800S and 800P. The 800S features Brokk's signature three-arm system and offers a maximum reach of nearly 30 feet. When equipped with the included MB1000 breaker, the Brokk 800S produces 1,500 feet per pound at the tip of the tool, nearly twice the hitting power of the Brokk 400. Specially designed with added heat protection, the 800P is intended for use in challenging process applications.
Schwarze
Single and dual-engine configurations
The Schwarze M6000 street sweeper is a rugged mechanical broom sweeper, available in single- and dual-engine configurations. The sweeper can be mounted on a variety of conventional and cabover chassis. The mechanical sweeper works by picking up the debris from the roadway and moving it into the sweeping path, where the rear broom sweeps the debris onto a conveyor system, which in turn carries the debris to the 5-cubic-yard hopper.
Spin Screed
Easily switch pipe lengths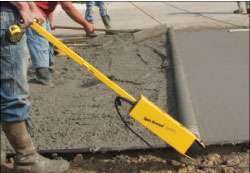 The Spin Screed is an aluminum pipe, up to 22 feet long, that is caused to spin by a heavy-duty right-angle drill opposite to the direction it is being advanced. This is so that concrete rolls up in front of the screed cutting off high spots and filling in low spots. The aluminum pipe screed can be purchased or cut into any length up to 22 feet, making screeds tailor-made for various jobs. Contractors can switch from one length of pipe to another in just a matter of seconds by means of quick disconnects.
Rexnord
Tough, reliable gearbox
Rexnord Industries says its new Falk V-Class line of gear drives is designed for maximum uptime and durable performance. The housing's shape and features were designed through the use of computational fluid dynamics to enhance the drive's thermal dissipation qualities. The drive incorporates Magnum no-leak seals with oil drain backs and purgeable grease chamber to eliminate oil leaks.
Rhomar

Armour-Seal undercoating
Armour-Seal from Rhomar Industries is a semi-permanent, high-strength rubberized polymer-blended undercoating used to stop rust and corrosion. Resistant to sodium, magnesium and calcium chloride, it has passed salt spray test ASTM B-117 at greater than 1,000 hours. The company says that Armour-Seal can be applied in the shop, and is used extensively on frame and chassis components such as oil pans, diesel fuel tanks, brake cables and wiring harnesses of work trucks and other vehicles. Featuring a pistol-grip spray gun applicator, Armour-Seal is non-flammable and HAPS-free with low-volatile organic components.
Bonnell
Highest spinner ground clearance
Replacement tailgate spreaders from Bonnell Industries are designed to replace the existing tailgate, providing the highest spinner ground clearance possible, the company says. The spreaders are engineered for use with light-, medium- and heavy-duty trucks. The agitator and 6- or 9-inch auger with return flighting ensures constant material flow. Both the R-69 and R-99 replacement tailgate spreader models fasten to existing dump body hardware for fast mounting and removal without the use of special tools. Standard features include: a full-width agitator driven by a roller chain off the auger shaft and two-hydraulic-motor operation (one at the auger and one at the spinner for independent variable speed control).
LoJack
Stolen vehicle recovery system
LoJack Corp.'s next-generation, ruggedized Stolen Vehicle Recovery System for construction equipment is a self-powered, radio-frequency-based system with a battery life that can be warranted up to seven years. The system is entirely self-contained and does not require constant charging to any power source. Because the battery is self-contained, the LoJack system can now be hidden in additional locations on a piece of equipment, making it more covert.