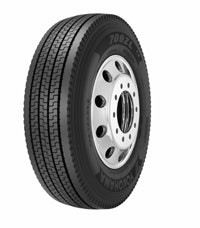 FULLERTON, CA – Yokohama Tire Corporation will debut its new drive tire, the 709ZL™ at the Mid-America Trucking Show (MATS) at the Kentucky Expo Center in Louisville, Kentucky, March 22-24. The 709ZL is available in 295/75R22.5 and 11R22.5 sizes.
According to Rick Phillips, Yokohama's director of commercial sales, the 709ZL employs Yokohama's Zenvironment technology, which combines the latest breakthroughs in casing design, rubber compounding and tread design.
"By pairing our advanced compound with a tread design that's different from any other tire," said Phillips, "our engineers have successfully created a drive tire that is remarkably fuel efficient."
Highlights of the 709ZL include:
— Low rolling resistance and superior fuel economy, thanks to the new compound using Zenvironment technology.
— Unique drive tire tread design.
— Solid shoulder rib and serpentine grooves for extra rigidity and stability.
— Z Block design to improve wet traction and lower rolling resistance.
The 709ZL will be available in the latter part of 2012.
"MATS attendees definitely need to come by the booth to see the 709ZL," said Phillips. "It has a very unique tread design for a drive tire."
Yokohama Tire Corporation is the North American manufacturing and marketing arm of Tokyo, Japan-based The Yokohama Rubber Co., Ltd., a global manufacturing and sales company of premium tires since 1917. Servicing a network of more than 4,500 points of sale in the U.S., Yokohama Tire Corporation is a leader in technology and innovation. The company's complete product line includes the all-new AVID® Ascend™ – the first mass-market tire using Yokohama's breakthrough orange oil technology – as well as tires for high-performance, light truck, passenger car, commercial truck and bus, and off-the-road mining and construction applications. For more information on Yokohama's extensive product line, visit https://www.yokohamatire.com/.