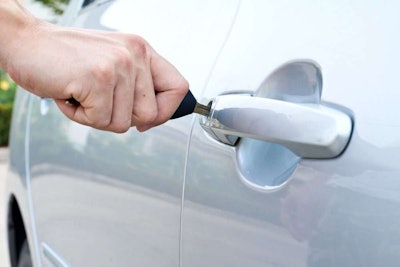 There is one seemingly simple problem with car technology that has yet to be solved.
It's not that glitch in your GPS that tells you to turn right in 500 feet… into a lake. And, nope, it's not the momentary loss of your satellite radio signal as you drive beneath an underpass.
It's not that complex at all.
Among the biggest failure in car technology is simply human error: getting locked out of the car.
According to a report from Wall Street Journal's MarketWatch, about 3.3 million Americans called for emergency road service due to lockouts. The only other roadside emergency services to exceed that was the 5 million drivers who called for help with dead batteries and the 3.8 million who called for flat tires.
The report notes that electronic key fobs and keyless ignition systems make it easier to get locked out. Plus, they are much more expensive to replace, with key fobs costing up to $195 more than an average key.
However, MarketWatch adds that the auto industry is moving toward a solution to lockouts with keyless technology thanks to "smartphone apps that act like virtual keys."
Just make sure you don't misplace your phone.