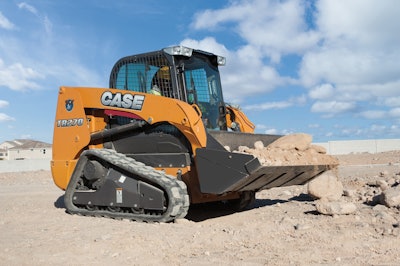 Case has introduced the Tier 4 Final TR270 Alpha Series compact track loader, which offers a variety of improvements from the previous model.
Updates include increases to bucket breakout force, now 7,270 pounds ; torque, now 232 foot-pounds ; and hydraulic flow, now at a standard 24.2 gallons per minute and a high-flow of 32.4 gallons per minute.
The 8,270-pound TR270 has an operating capacity of 2,700 pounds. An optional counterweight increases the operating capacity to 2,800 pounds.
The 74-horsepower model features a cooled exhaust gas recirculation (CEGR) engine with a particulate matter catalyst, which is made up of a diesel oxidation catalyst (DOC) and a high-efficiency flow-through filter. This provides a maintenance-free solution because it requires no manual regeneration or filter replacement.
An EZ EH (electro-hydraulic) setup menu with features nine preset speed and control settings allows the operator to match controls to their preference, while a single rocker switch gives the operator the ability to switch between the CASE "H" operating pattern and ISO pattern controls. The new handles have additional "feel points" that offer improved control and feathering.
The loader features a dozer-style undercarriage and a rigid track frame, improving durability.
The nearly 3-foot-wide cab offers visibility-enhancing features such as ultra-narrow wire side screens, side lighting, a skylight and site lines down to the bucket edge and curb lines and to the rear of the machine. The cab also features a low step and entry threshold.
An optional enclosed cab is also available.
Maintenance is made easy with the engine, filters and fill points located near the rear of the machine.
Other features include an easy-tilt cab for easy access to the drivetrain compartment, hydraulic couplers to allow the operator to change attachments from inside the cab and Connect Under Pressure (CUP) manifolds that require no tools to connect or disconnect hydraulic lines.