Better Roads' editors choose the year's top products.
We receive hundreds of new product submissions each year. After careful reflection on the products covered and submitted both online and in print this year, these are the 25 that most caught Better Roads' editors collective eye for their industry significance, ingenuity, filling of a market need and/or just plain ol' coolness. This wide, innovative range of new equipment and products for the bridge and road construction and maintenance sectors ran in the print edition of Better Roads or BetterRoads.com to serve contractors and agencies.
Keeping the list to 25 is difficult. It takes a lot of talking, negotiating and decision-making. We had to examine and then re-examine our reasoning and our selections. This is a short list, and it may not match yours. Some of this list is subjective, but it is a way for us to acknowledge some of the industry leaders, companies, engineers and designers who did something special to bring the industry outstanding products. Here is our list, but we'd love to hear from you what's on your list or how you're using some of these products we've picked. For more details on all these products, including links to videos, specs and photos, visit BetterRoads.com and click on "Products."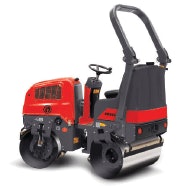 Chicago Pneumatic
Chicago Pneumatic's expanded line of light compaction equipment includes the gasoline-powered AR90G small articulated tandem asphalt roller, diesel-powered AR100 small articulated tandem asphalt roller, ART120 compact articulated tandem asphalt roller, SR130 small vibratory soil roller and SR130PD small vibratory soil roller.
betterroads.com/chicago-pneumatic-asphalt-roller
Bomag
Bomag's Tangential Oscillation (TanGO) is an exciter system designed to improve power for vibration generation while reducing drive-belt maintenance requirements. The system is created for use on bridges and near buildings but can also be used for intermediate and finish rolling. TanGO's horizontal placement allows it to maintain continuous ground contact.
betterroads.com/bomag-tango

Vacuworx
Vacuworx's RC concrete road barrier lifter is designed to maneuver concrete road barriers in confined spaces and capable of handling loads up to 44,000 pounds or more, depending on vacuum-pad configuration. It can be operated with excavators, backhoes, forklifts, cranes or knuckle booms. Two changeable vacuum pads fit securely over the top of material. betterroads.com/vacuworx-rc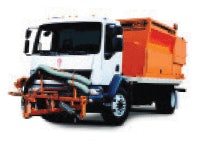 Bergkamp
Bergkamp's SP5, SP8 and SPT Spray Injection Patcher pothole patching solutions are compatible with Bergkamp's InPave Pothole Patching Management System. The truck-mounted SP5 and SP8 Spray Injection Patchers feature a dual chamber (60/40) aggregate hopper that allows for distribution of two grades of aggregate, as well as an automatic operation option.
betterroads.com/bergkamp-patcher

Case Construction Equipment
Introduced at the 2013 American Public Works Association show, Case Construction Equipment introduced its new CX75C SR mid-sized excavator, which features a first-in-class Tier 4 Final engine with a diesel oxidation catalyst (DOC)-only cooled exhaust gas recirculation (CEGR) system.
betterroads.com/case-cx75c-sr

Kenco
Handle precast barrier and curbing with the redesigned Barrier Lift from Kenco, which grabs and releases wall automatically from inside the cab. Integrated handles enable ground personnel to guide the lifter, and a rotating pad angles to conform to the wall's shape. The Barrier Lift grips top wall widths from 6 to 12 inches, and lifting capacities range from 9,000 to 40,000 pounds.
betterroads.com/kenco-barrier-lift-design
John Deere
John Deere Forestry and Construction's 644K Hybrid wheel loader uses two sources of energy – diesel and electric – capturing regenerated energy as its being created and uses it to power the machine. Equipped with a PowerTech 6.8-liter Interim Tier 4/Stage IIIB engine, it runs at an operator-selected constant speed from 900 to 1,800 rpm and has a net 229 horsepower.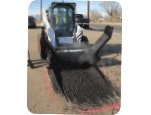 Bobcat
Bobcat's asphalt preservation tools system has an infrared asphalt heater and an asphalt processor compatible with 12 Bobcat all-wheel, skid-steer and track loader models: A300, A770, S300, S330, S750, S770, S850, T300, T320, T750, T770 and T870. The 3,760-pound AH30 heater is 59 inches long, 84.4 inches high and 111.4 inches wide.
betterroads.com/new-road-products-29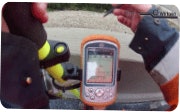 Wirtgen
Wirtgen's AutoPilot Field Rover, which won an innovation award at bauma 2013, eliminates stringlines using a GPS to guide paving machines. The device uses a computer integrated into the machine, GPS receivers mounted on the paver and a control panel. To create the stringline, the receivers communicate with a GPS reference station.betterroads.com/wirtgen-field-rover
Caterpillar
Caterpillar's four D Series skid steers, replacements for their B3, C and C2 Series predecessors, have a standard sealed and pressurized, one-piece modular construction cab. The series also has new lift arm design for improved sight lines, as well as increased engine performance. The D Series large-frame 246D and 262D models have operating capacities of 2,150 and 2,700 pounds, respectively.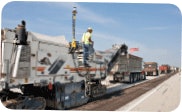 Trimble
Introduced at bauma 2013, Trimble's Version 2.1 of the PCS900 Universal Total Station Paving Control System for milling machines – a 3D asphalt milling solution – is designed to help contractors mill a smoother surface. The portable 3D milling solution is CAN-based, which allows the system to communicate directly with factory-installed 2D systems from most milling machine manufacturers.
betterroads.com/trimble-3d-asphalt-milling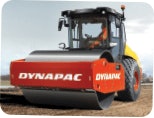 Dynapac
Dynapac's soil compaction machines have a transversely mounted engine – a design move that makes almost the entire engine accessible to mechanics when the hood is lifted. The soil compactors range from 12 tons (CA 2500) to 15 tons (CA4000), feature an 84-inch drum and an active bounce control system of feedback that provides basic stiffness feedback.
betterroads.com/dynapac-soil-compactor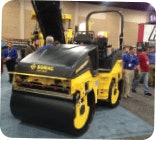 Bomag
Bomag's BW138AD tandem roller is powered by a Tier 4 Interim 45.3-horsepower, water-cooled Kubota diesel engine, has the Bomag's Economizer technology as an option. The Economizer uses an acceleration sensor to measure stiffness of the material across the compacted material and then displays the data using a series of 10 yellow LED lights on the roller's instrument panel.
betterroads.com/bomag-bw138ad-5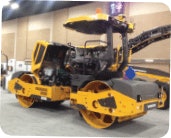 Volvo Construction Equipment
Volvo Construction Equipment's DD110B asphalt compactor, which replaced the DD90, features larger drums, more amplitude, higher frequency, increased centrifugal force and more water storage than its predecessor. Volvo also included an operator system with a six-way adjustable seat, tilt steering wheel, instrument cluster and ROPS canopy. This compactor has three drum options: 2 amplitude high frequency, 8 amplitude high frequency and 8 amplitude high frequency and altitude.
betterroads.com/bergkamp-patcher

Case Construction Equipment
Case Construction Equipment's DV Series – DV23, DV26, DV36 and DV 45 – replaces the DV201, DV202 and DV204. The series is designed for applications such as paving parking lots, bike paths, tennis courts and other small- to medium-sized projects. The DV Series rollers have drum widths ranging from 39 to 54 inches and operating weights ranging from 4,960 to 10,295 pounds.
betterroadsc.com/case-dv-series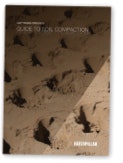 Cat Paving Products
The Cat Paving Products Guide to Soil Compaction released as a companion to the Cat Paving Products Guide to Asphalt Compaction, giving agencies and contractors a combination of fundamental lessons and real-world jobsite tips. The book also features more than 100 photographs and illustrations and provides information on soil types and classifications, application and quality control.
betterroads.com/guide-to-soil-compaction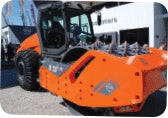 Wirtgen
Wirtgen's Hamm H251 VC combination concrete/asphalt milling drum with a vibrating roller – a.k.a. "crusher drum" – destroys material underfoot while on the move. Applications for the crusher drum include breaking or pre-crushing rock, breaking up concrete, crushing and compacting mixed soils, compacting cohesive soils, compacting during cold recycling and stabilization.
betterroads.com/wirtgen-crusher-drum
Terex Roadbuilding
After a halt in production, Terex Roadbuilding rolled out its FD5000 "Great Lakes" Front Discharge mixer truck. It has a 2013 EPA-compliant engine (MTU DD13 diesel engine), which can be configured to provide 350-, 380- or 450-horsepower. The mixer truck on display has a 450-horsepower diesel engine with 1,550 ft.-lb. torque and 197-inch wheelbase, an increase compared to previous five-axle models.
betterroads.com/terex-mixer-truck
Flink
Flink's FXP snowplow expands from 11 to 14 to 17 feet without an operator needing to leave his or her seat. The plow is independently activated from the left and right side. The hydraulically operated plow does not have pins to hold sections in place or pivot points to bend out of shape. The plow is placed out for visibility, safety and control. It has no wings out to the side and no body scrapers behind the plow. For extremely heavy, wet snows, vibrators can be added to assist the cleaning of the blade and aid in snow and ice disbursement. The plow is able to navigate city streets and toll booths. betterroads.com/flink-fxp

Doka
Doka's Super Prop is a strong, yet lightweight prop that is fully compatible with the Doka Truss Table system. With a generous adjustment range for each individual prop, the aluminum prop maximizes leg spacing for standard shoring and minimizes overall re-shore requirements. The prop uses the highest capacity to weight ratio to maximize jobsite efficiency.
betterroads.com/doka-super-prop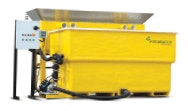 Cargill
Cargill Deicing Technology's AccuBatch brine maker has an automatic brine concentration measurement sensor so there is no need to manually check and recheck brine concentration for optimum levels. The semi-automated system produces brine by the batch – up to 800 gallons per batch. The brine maker has a plug-and-play design and is made from durable marine-grade fiberglass.
betterroads.com/cargill-accubatch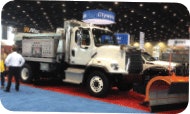 Henderson Products
Henderson Products' BlackBelt Maxx truck body can perform jobs such anti-ice applications, deicing applications, pre-wet applications, salt-slurry generation, material hauling and high-volume material conveying. Features include load sense belt tensioning, a 54-inch-wide pure belt design, a planetary drive system, a low working center of gravity, 71-degree sloped walls, a high-capacity hopper, high-capacity anti-ice liquid tanks and controlled load management system.
betterroads.com/henderson-blackbelt-maxx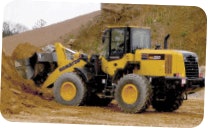 Komatsu America
Komatsu America's WA270-7 wheel loader lowers fuel consumption by up to 10 percent compared to its predecessor, the WA250-6. A Tier 4 Interim SAA6D107E-2 engine powers the 28,836-pound machine and delivers 149 net horsepower. The wheel loader features Parallel Z-bar loader linkage, which delivers a 10-percent increase in lift force and offers a parallel lift linkage and high-tilt forces.
betterroads.com/komatsu-wa270-7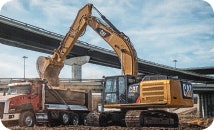 Caterpillar
Caterpillar's hybrid excavator, the Cat 336EH, is the first in a line of hybrid excavators launched in April 2013 at bauma. Cat's hydraulic hybrid technology allows the new 336EH to get 25-percent greater fuel efficiency than the standard 336E and 50-percent greater fuel efficiency over the Cat 336D. betterroads.com/new-road-products-28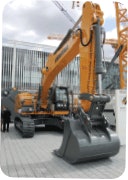 Liebherr
Liebherr's R 9XX 40-ton prototype electric hybrid excavator features an electric hybrid driveline and is powered mostly by a standard diesel engine, though it also uses an electric storage device known as supercaps and a hydraulic pressure accumulator. The hybrid system on the R 9XX can supply short-term peak power at up to twice the rated output of the diesel engine.
betterroads.com/liebherr-r-9xx
Want more? For the 2012 Top Products, go to betterroads.com/better-roads-2012-top-products.
For the 2011 Top Products, go to betterroads.com/twenty-that-will-make-a-difference.