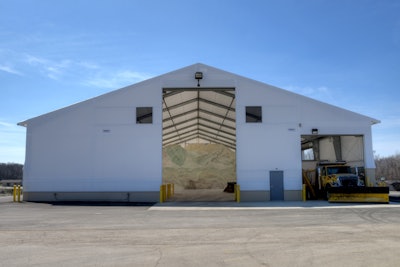 When the Indiana Department of Transportation (INDOT) opened a new facility for winter de-icing operations and salt storage in Wabash, Indiana, earlier this year, it was the fourth such facility the state had commissioned and built since 2010. And as with the previous three structures, the new tension fabric building in Wabash – which provides enough capacity to store 3,600 tons of salt – was custom designed, engineered and erected by Legacy Building Solutions.
"This is part of an ongoing process of installing high-quality fabric buildings to replace our older salt domes, which do not have enough capacity for our average annual use," said Steve McAvoy, state facilities manager for INDOT.
After the contract was awarded in September 2012, the engineering team from Legacy Building Solutions partnered with INDOT's engineering consultants to design a cost-effective structure for the Wabash site.
The new structure uses Legacy's rigid frame design, which allows for a high level of engineering flexibility. Unlike common fabric buildings with a rounded, web truss frame, Legacy constructs framework using solid structural steel beams. This design serves to allow more customizability with building size and shape, as well as to better withstand the corrosion conditions that are inherently part of salt storage.
Each Legacy building that INDOT has purchased has introduced some minor changes to details and engineering. In this case, the challenge was to develop a building that could be used to store salt and brine, while also using some additional space to incorporate an interior wash bay into the same facility.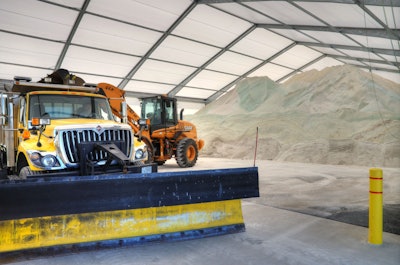 To meet INDOT's requirements, Legacy designed a custom frame that could accommodate a taller 16-by-16-foot entrance door for the wash bay in the front right corner of the building – right next to the structure's even larger primary front door.
The wash bay includes 8-foot-high fabric walls to help contain and capture runoff water, while preventing overspray from reaching the storage area.
"Historically we've had to wash trucks in a separate building from where we stored salt," said McAvoy. "With this design, we were able to save money and space by integrating the wash bay into the storage structure. The setup we use is also ideal for eliminating environmental concerns, since all the salt-laden water is contained instead of running off."
The building as a whole measures 85 by 160 feet with 20-foot on-center frames. To meet local zoning, the building's peak is 35 feet tall, with a roof pitch of 4/12. The fabric structure sits atop an 8-foot-high concrete wall, except for the front endwall, where Legacy suggested building the concrete wall to a height of just three feet, to save on concrete costs. The large front door measures 18 by 28 feet, while 16-by-16-foot side doors allow trucks to enter the building single file to safely load and off-load under roof.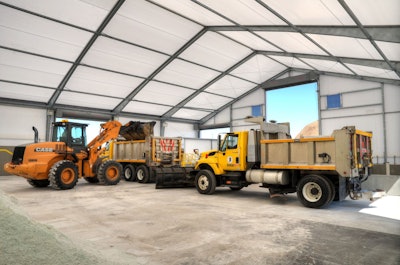 "The building was sized according to the average of five-year salt usage at the Wabash site," said McAvoy. "It was designed so trucks could enter and exit in a safe and controlled manner, and this configuration has already saved us time and money."
The Wabash building is well ventilated, using mesh vents on the endwalls and a mesh soffit placed under the 2-foot eave extensions on each sidewall. The ventilation enhancements have created a much drier and cleaner environment than INDOT experienced in previous facilities.
To protect workers and equipment during the winter months, ice breakers are mounted to the eave extension tubes to break up chunks of snow or ice as they shed from the roof. The roof fabric consists of Legacy's standard 20-foot-wide kedered roof panels.
The project concluded when a four-person installation crew from Legacy erected the building in just one week.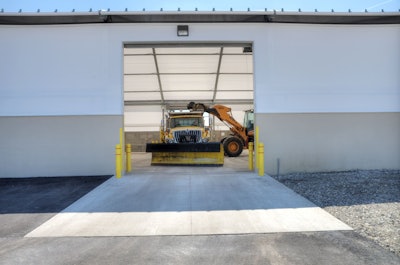 "Installation of the infrastructure and building itself was quick and efficient," said McAvoy. "The end users of the building, in particular, are very excited about the advantages afforded by the new building."
Legacy is currently working on another INDOT building, scheduled for construction this fall. In the meantime, INDOT is looking ahead to more innovative design initiatives aimed at further cost savings. The department also hopes to contribute to growing its list of sub-district and unit maintenance facilities that have received the Salt Institute's Excellence in Storage Award for environmentally sensitive salt storage.
Legacy Building Solutions specializes in the innovative design, engineering and construction of fabric-covered buildings for several different industries and applications. To date, Legacy's in-house, professional installation crews have constructed more than 30 million square feet of fabric buildings. For more information, contact Legacy Building Solutions, 19500 County Road 142, South Haven, MN 55382, call 320-259-7126 or 877-259-1528, or visit the company's website at legacybuildingsolutions.com.