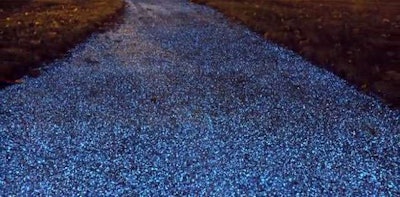 What if the pavement pedestrians and cyclists travel on could create a safer environment for them?
A new, sparkling glow-in-the-dark pavement coating makes that possible.
England-based company Pro-Teq has created an artistic and energy-efficient way to illuminate bike and pedestrian paths with a glow-in-the-dark pavement solution, reports Take Part, an information source focused on accelerating social change.
[youtube DirpewBP6Cw nolink]
The coating, Starpath, sprays onto most solid surfaces, including cement, wood and tarmac. The particles in the veneer absorb sunlight during the day, then use the harvested sunlight to illuminate itself after dark. Starpath can light up in one of four colors: blue, red, gold or green.
Along with its ability to provide light at night, its non-reflective, anti-slip and waterproof qualities also work to improve safety for pedestrians and cyclists, even during the day.
Take Part notes that Pro-Teq created Starpath with a goal of ensuring the safety of pedestrians and cyclists while reducing the costs associated with street lights.
I'm not sure glow-in-the-dark paths are ever going to completely replace street lights, but it could be an interesting addition to parks and roadsides will dim lighting.