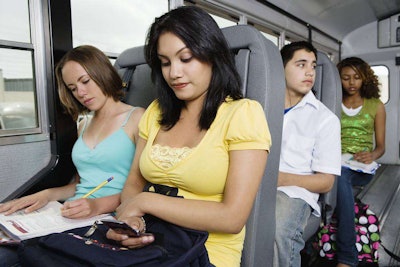 The decline in number of young drivers in America — and resulting increase in those choosing public transportation, walking and biking — may be less of a choice and more of a financial necessity.
A decline in teen driving correlates with the recession and a drop in teen employment, according to a new study from the Highway Loss Data Institute (HLDI).
"It looks like teens just can't afford to drive," HLDI Vice President Matt Moore said in a written statement. "Paying for their own cars, gas and insurance is hard if they can't find a job. At the same time, kids who count on Mom and Dad to help them also may be out of luck if their parents have been affected by the recession."
The study reports that 73 percent of high school seniors in 2010 had a driver's licence — down from 85 percent in 1996. And the number of seniors who reported not driving during an average week rose from 15 percent in 1996 to 22 percent in 2010. (Those figures are based on survey data from the U.S. Centers for Disease Control.)
Additionally, the number of rated drivers (those representing the greatest loss potential for an insured vehicle) ages 14-19 declined 12 percent from 2006 to 2012, while the total population of teens ages 14-19 declined by only 3 percent.
From 2006 to 2010, ratio of rated teen drivers to rated drivers ages 35-54 fell from 0.042 to 0.038. The ratio remained the same from 2010 to 2012.
The decline in teen drivers could be a cause of the job market, since teen unemployment increased by 11 percent between 2006 and 2010, while workers ages 35-54 saw unemployment rates increase by 5 percent.
The report estimates that 79 percent of the decline in teen driving can be attributed to unemployment.
The number of teen drivers could begin to increase again as the economy recovers, Moore said.