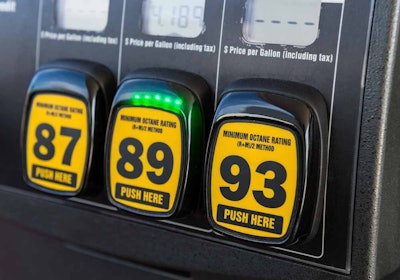 Less than a week after former Transportation Secretary Ray LaHood suggested a 10-cent-per-gallon tax hike, the idea of a fuel tax increase is getting more buzz.
Thomas Donohue, president of the U.S. Chamber of Commerce, said Monday at a breakfast hosted by The Christian Science Monitor that Congress should consider raising the federal gas tax, according to a report from CNN Money.
Donohue said the funds raised could be used to pay for maintenance, repairs and new construction of transportation infrastructure.
The gas tax was last raised in 1993 and has since remained at 18.4 cents per gallon.
"Twenty years. It's been 20 years since we had an increase in the federal fuel tax," Donohue said at The Monitor Breakfast, "What kind of car were you driving 20 years ago?"
The tax now generates about $30 billion a year, CNN Money reports.
The report notes that nearly 90 percent of Americans drive to work, and many would likely oppose a gas tax increase. In fact, as we've previously reported on Better Roads, two-thirds of Americans have said they would vote against a fuel tax hike.
However, according to the CNN Money report, the idea of increasing the fuel tax "could be picking up steam" because of leaders like Donohue and LaHood.
The fuel tax could be a solution to the annual shortfall of $201 million in infrastructure funding that the U.S. currently faces.